Home
About Us
FAQ
Privacy Policy
Contact Us
Books
DVDs
VHS
Charts
Audio Books
General Information
Secure Order Form
Mail & Fax Orders
Shipping Rates

Mastercard
Visa, Discover
* * *
Phone Toll Free:
1-877-577-8743
within U.S.A.
* * *
International
1-336-246-2663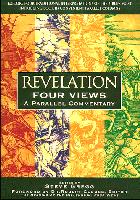 REVELATION: FOUR VIEWS
A Parallel Commentary

edited by Steve Gregg, 1997



This book offers a clear, fair presentation of the four views, allowing you to evaluate and decide for yourself which view is the most convincing. Verse by verse, Steve Gregg presents the book of Revelation from these popular views: Historicist, Preterist, Futurist, and Spiritual.

Explore the four traditional interpretations of the Book of Revelation in this in-depth, verse-by-verse overview. Revelation: Four Views is a comprehensive, even-handed resource that offers a clear, fair presentation of four of the most important interpretations of the book, allowing you to evaluate and decide for yourself which view is most convincing. The easy-to-read layout is arranged to encourage thoughtful comparison and evaluation along with the study of the Book of Revelation itself.

Careful, unbiased summaries of the views of over fifty commentaries and commentators put you in touch with outstanding representatives of each view from throughout much of church history.

---
TABLE OF CONTENTS
Foreword
Introduction to this Commentary
Introduction to the Book of Revelation
Part I: The Seven Letters - Revelation 1-3
Part II: The Seven-Sealed Scroll - Revelation 4-7
Part III: The Seven Trumpets - Revelation 8-10
Part IV: The 1260 Days - Revelation 11-13
Part V: The Seven Last Plagues - Revelation 14-16
Part VI: The Great Babylon - Revelation 17-19
Part VII: The Millennium - Revelation 20
Part VIII: The New Creation - Revelation 21-22
Scripture Index
Subject and Author Index

---
AUTHOR PROFILE
Editor Steve Gregg directs the Great Commission School, a unique ministry that leads students through the bible, verse by vers, in nine months, and Good News Underground, an evangelistic literature ministry, in McMinnville, Oregon. He also teaches regularly for Youth With A Mission schools internationally.

---
BOOK SPECIFICATIONS
528 pages, hardcover, index, Scripture index
ISBN 0840721285