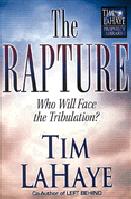 THE RAPTURE
Who Will Face the Tribulation?

Tim LaHaye, 2002


$9.95
Retail $14.95
Ships within
24 hours!


Will Christians be spared the horrors of the end times described in Revelation? Believers have wrestled with this question for centuries, and arrived at different conclusions. In this easy-to-read volume, the best-selling author of Left Behind explains why he's convinced of the pre-tribulation theory---and shares evidence from Scripture. (Previously titled Rapture Under Attack.)
Tim LaHaye provides a complete and compelling response that...
compares the pre-Tribulation, mid-Tribulation, and post-Tribulation rapture views and gives solid reasons why the Rapture comes before the Tribulation
includes timelines and charts that give a clear picture of the end times
reveals the key to interpreting Bible prophecies correctly
---
TABLE OF CONTENTS
Introduction

Part One: The "Blessed Hope" of Christ's Return

Great Expectation
Translated--Snatched--Raptures!
Kept from the Hour
The Great Tribulation
Blessed or Blasted Hope?
Who Says It's Obscure?
The Glorious Appearing

Part Two: The Scriptual Case for the Pre-Trib Rapture View

What Are the Options?
The Case Against a Mid-Tribulation Rapture
The Case Against a Post-Tribulation Rapture
The Pre-Tribulation Rapture: Believe It!

Part Three: Answering the Attacks on the Pre-Trib Rapture View

Target Number One
A Case Study in Slander
MacPherson's Vendetta
The Pre-Wrath Rapture Myth
The Most Absurd Charge of All
Why Do They Do It?
Appendix A: The Preposition Ek Means "Out Of"
Appendix B: Two Keys to Understanding Prophecy
Appendix C: The Handwritten Account by Margaret MacDonald of Her Vision
Bibliography
Notes

---
AUTHOR PROFILE
Dr. Tim LaHaye is the best-selling author of more than 50 books and is the co-author of the enormously popular Left Behind Series. He is the president of Tim LaHaye Ministries and cofounder of the Pre-Trib Research Center.

---
BOOK SPECIFICATIONS
250 pages, paper, appendix, bibliography.
ISBN 0736910840