Home
About Us
FAQ
Privacy Policy
Contact Us
Books
DVDs
VHS
Charts
Audio Books
General Information
Secure Order Form
Mail & Fax Orders
Shipping Rates

Mastercard
Visa, Discover
* * *
Phone Toll Free:
1-877-577-8743
within U.S.A.
* * *
International
1-336-246-2663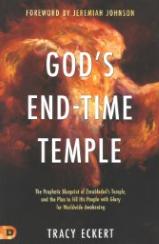 GOD'S WRATH ON LEFT BEHIND
Exposing the Antichrist Agenda of the Left Behind Series

Lisa Ruby, 2002



God's Wrath on Left Behind proves that the wildly popular Left Behind novels, allegedly "hung upon a scriptural outline," are driven by cleverly disguised anti-Christian and satanic subliminal messages. Ruby's new book, God's Wrath on Left Behind, methodically outlines evidence indicating the Left Behind series is not what it appears to be. Moreover, Ruby lays out - through clear biblical examples and critical examination - a compelling argument that the best-selling novels are virtual propaganda tools teeming with an anti-Christian gospel, antichrist messages, and New Age teachings. Cloaked under the label of 'entertainment,' the fact is that careful review of the Left Behind books reveals a frightening hidden agenda that is sending harmful messages to millions of readers.

Some of the shocking points Ruby makes in her book include:

How the Left Behind series contains manipulatively worded passages that work to stealthily promote sin such as adultery, abortion, unbiblical attitudes about sex, suicide, murder, hypocrisy, denying Jesus Christ, and many more. Clear evidence the Left Behind series is based on an antichrist foundation that conditions the reader to merge with the kingdom of antichrist.

Also included is critical information exposing Satan's plans to destroy those who believe the visible "mark of the believer" and the false mark of the beast doctrines that are presented as fact in the Left Behind series.

---
TABLE OF CONTENTS
LEFT BEHIND: FINISHING OFF THE FALLING AWAY
THE ANTI-CHRISTIAN GOSPEL OF LEFT BEHIND
ENTERTAINMENT: THE BEST TOOL FOR PROPAGANDA
A CERTAIN MANNER OF AN AFFAIR IS NOTHING TO FEEL GUILTY ABOUT?
NICOLAE AND PRO-ABORTION PROPAGANDA
CHILD MURDER AND SUICIDE: OPTIONS FOR CHRISTIANS DURING THE TRIBULATION?
DISAPPEARANCES: THE BEST-KEPT SECRET
THE BIBLE ON THE MARK OF THE BEAST
BY THEIR MARKS YE SHALL KNOW THEM?
SATAN ON THE MARK OF THE BEAST
SEX AND THE LEFT BEHIND SERIES
THE ANTICHRIST FOUNDATION OF THE LEFT BEHIND SERIES
MERGING WITH THE KINGDOM OF ANTICHRIST
NEW AGE MARKINGS ON LEFT BEHIND
SATAN'S SOUL HARVEST

ESSENTIAL APPENDICES

THE GOSPEL OF JESUS CHRIST
WHAT DOES IT MEAN TO BE A TRUE CHRISTIAN

NOTES
---
BOOK SPECIFICATIONS
216 pages, paper.
ISBN 0972126406