Home
About Us
FAQ
Privacy Policy
Contact Us
Books
DVDs
VHS
Charts
Audio Books
General Information
Secure Order Form
Mail & Fax Orders
Shipping Rates

Mastercard
Visa, Discover
* * *
Phone Toll Free:
1-877-577-8743
within U.S.A.
* * *
International
1-336-246-2663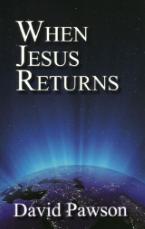 WHEN JESUS RETURNS

David Pawson, 1995



Christians everywhere await Christ's return. Will he come as the pre-existent Son of God or the incarnate Son of man? To the whole world or just one place? In the same way as the first time or otherwise? Soon and suddenly or after clear signs? What can he achieve by coming back and how long will it take? These and many other questions are tackled in this book. When Jesus Returns is a detailed analysis of the two major areas of controversy, the 'Rapture' and the 'Millennium', followed by a look at other related issues - the application of unfulfilled predictions in the Old Testament, the nature of the kingdom in the teaching of Jesus and the future of Israel and the biblical philosophy of history. The final section attempts a new approach to the interpretation of the 'Book of Revelations'.

---
TABLE OF CONTENTS
Foreword
The Fascinating Future
A. THE APPROACHING ADVENT
Making Sense of His Return
Making Sure of our Readiness

B. THE REVELATION RIDDLE

Differences of Opinion
Nature of Apocalyptic
Schools of Interpretation
Sense of Purpose
Analysis of Structure
Digest of Contents
Centrality of Christ
Rewards of Study

C. THE RAPTURE RATIONALE

The Novel Doctrine
The Biblical Case
The Doubtful Claim

D. THE MILLENNIUM MUDDLE

The Common Disappointment
The Basic Passage (Revelation 20)
The Broader Context
The Philosophic Problem
The Different Views
The Personal Conclusion
---
AUTHOR PROFILE
David Pawson occupies a key position among British Christian writers. His best known work, Unlocking the Bible, continues to be a worldwide best seller in print, audio and video formats. Unlocking the Bible and The Normal Christian Birth have been called Pawson's legacy to the church. Pawson is known for accepting biblical text as the authoritative word of God while explaining its meaning and context in a practical and understandable language. Because he follows the teaching of Scripture where it clashes with church tradition, his books are often controversial.

---
BOOK SPECIFICATIONS
269 pages, paperback.
ISBN 9780982305911