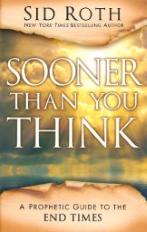 SOONER THAN YOU THINK
A Prophetic Guide to the End Times

Sid Roth, 2015


$14.95
Ships within
24 hours!


Sid Roth, host of Itís Supernatural!, has gathered some of the leading experts and prophetic voices to take you on a powerful journey of upcoming events. Each author shares a different part of the prophetic puzzle. By the time you finish reading this book, the pieces will come together and create a clear picture of Godís unfolding agenda for the end-times.
Discover how this pivotal moment in history is your great opportunity to be on guard against the enemyís deception, experience Godís power like never before, and participate in the greatest revival in history!

---
TABLE OF CONTENTS
INTRODUCTION - "I Am Coming Back Soon!" (Sid Roth)
End-Times Previews (Paul McGuire)
Inevitable Conflicts (Bill Salus)
Great Deception (L.A. Marzulli)
The Messiah Comes (Perry Stone)
Divine Appointments (Mark Biltz)
Revelation about Revelation (Perry Stone)
Prophetic Maze (Tom Horn)
Pre-Tribulation Rapture (Ann Rowan)
Mid-Tribulation Rapture? I Make My Case (John Shorey)
Are You Ready for the Great Tribulation? (Ron Cantor)
"O,Jerusalem!" (David Brennan)
The Remnant in the Last Days (Pat Schatzline)
How to Prosper in the End Times (Dr. Jim Richards)
CONCLUSION - Are You Ready for Your Final Day on Earth? (Sid Roth)

---
AUTHOR PROFILE
Sid Roth has a passion for people to experience the power of God for the purpose of having intimacy with Him. He is a pioneer in the convergence of Jews and Christians in Messiah Jesus that brings about an explosion of Godís power. His television program ďItís Supernatural!Ē documents miracles and is viewed internationally.

---
BOOK SPECIFICATIONS
271 pages, paperback.
ISBN 9780768406092