Home
About Us
FAQ
Privacy Policy
Contact Us
Books
DVDs
VHS
Charts
Audio Books
General Information
Secure Order Form
Mail & Fax Orders
Shipping Rates

Mastercard
Visa, Discover
* * *
Phone Toll Free:
1-877-577-8743
within U.S.A.
* * *
International
1-336-246-2663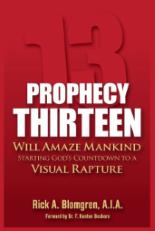 PROPHECY THIRTEEN
Will Amaze Mankind: Starting God's Countdown to a Visual Rapture

Rick A. Blomgren, 2015


$23.95
Ships within
24 hours!


A monumental event is about to arrive on our world by God's hand alone, Prophecy Thirteen. This next prophecy, coming soon, will change our lives in unimaginable ways. It will have profound repercussions for the Christian community, creating a dividing-line in the sand. After Prophecy Thirteen arrives every Christian will need to decide where they place their allegiance. Either with Jesus and His Bible or a, new counterfeit, One World Church that will quickly consolidate, erroneously telling us what we are to believe the truth is. In His Bible, Jesus shares twenty-four end time prophecies, a Road Map for our last days. The first twelve prophecies have been "witnessed." We will soon "see" the second twelve arrive. These events are not allegorical. Seeing them invalidates the doctrine of imminence. God offers a heavenly "crown" for believers who ultimately comprehend this Biblical reality. Prophecy Thirteen will amaze and stun all of mankind. It will resolve today's evolving Islamic upheaval, virtually overnight, and starts the final countdown to the Rapture and Tribulation.

---
TABLE OF CONTENTS
Dedications
Foreword
Prologue
God's Road Map: Twenty-Four Prophecies
Birth Pains, Birth, Timeline: Prophpecies 1-4
Prophecy Thirteen
Deceptions
The Visual Rapture: Prophecies 21-24
The Tribulation: God's 21 Judgments
Closing Thoughts
Appendices:
Appendix A - Bible Credibility
Appendix B - Who are Christians?
Appendix C - Imminence?
Appendix D - Is Jesus The Messiah?
The Author
The 144,000 Project
Acknowledgements
Additional Resource

---
AUTHOR PROFILE
Rick Blomgren was born in Chicago, Illinois in 1954. During his college years an interest in end time prophecies (Eschatology) took shape. For over forty-years he has studied and researched multiple end time prophetic theories in an effort to define what God has shared with us in His Word. Ten years ago, Rick met Dr. F. Kenton (Doc) Beshore, the President of the World Bible Society, in Costa Mesa, California. He began study work with Dr. Beshore, attending his three-hundred person Bible study class on Sunday mornings. Study with this, sagacious, scholar expanded to one afternoon a week in his office, where together they explored God's prophecies in greater depth on a more personal level. Quickly, Rick experienced Bible prophecy transform from black-and-white into Technicolor. Rick's teacher, Doc, holds five doctoral degrees in theology. Additionally, Doc has published multiple books regarding end time prophecies. He has taught in multiple Seminaries and pastored in many churches across the nation. He honed and refined his skills under the tutelage of Dr. David L. Cooper (1886-1965). Dr. Cooper was a leading expert in Biblical prophecy during the first half of the twentieth century. Doc Beshore was one of Dr. Cooper's Timothys, from 1955 to 1965. Dr. Cooper developed the Golden Rule for Biblical Interpretation: "When the plain sense of scripture makes common sense, seek no other sense; therefore, take every word at its primary, ordinary, usual, literal meaning unless the facts of the immediate context, studied in the light of related passages and axiomatic and fundamental truths indicate clearly otherwise." Through prayer and plain, literal "common sense" Bible interpretation, Rick developed a yearning to share with others about what is happening, in the world, explaining how today's current events purposefully validate God's Biblical prognostications for mankind's final days. For this reason, the book, Prophecy Thirteen, came to be. Rick is an award-winning Architect, and a member of the American Institute of Architects. He has been in private practice for thirty years and is licensed in multiple states. Rick has been married to his wife Jana for twenty-four years, and resides in Southern California.

---
BOOK SPECIFICATIONS
305 pages, paperback, appendices.
ISBN: 9780990648611