Home
About Us
FAQ
Privacy Policy
Contact Us
Books
DVDs
VHS
Charts
Audio Books
General Information
Secure Order Form
Mail & Fax Orders
Shipping Rates

Mastercard
Visa, Discover
* * *
Phone Toll Free:
1-877-577-8743
within U.S.A.
* * *
International
1-336-246-2663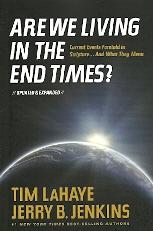 ARE WE LIVING IN THE END TIMES?
Current Events Foretold in Scripture... And What They Mean
Updated & Expanded

Tim LaHaye and Jerry Jenkins, 1999, 2011



Twenty-seven percent of the Bible is devoted to prophecy. But most of us don't focus 27 percent of our personal Bible study on prophecy. Why? We're confused. Or intimidated. Or both. This book takes away the mystery--and the intimidation. From the creators of the Left Behind Series--Tim LaHaye and Jerry Jenkins--comes a truly astonishing book. User-friendly for the layperson. Remarkably complete for the scholar.

---
TABLE OF CONTENTS
Introduction: How Close Are We?

PART ONE: CONTEXT

Prophecy 101
What Are the Last Days?
Are These the Times of the Signs?
The Sign of His Coming
Jerusalem and Israel: The Focus of World Attention

PART TWO: EVENTS

The Great Apostasy
Blooming in the Desert
A Disastrous Sneak Attack
Snatched Away!
The Temple Rebuilt
The Rise and Fall of Babylon
The Tribulation: An Overview
The Tribulation: The First Half
The Great Tribulation
The Glorious Appearing
The Millennium
The Last Rebellion
The Great White Throne Judgment
The Eternal State

PART THREE: PERSONALITIES

Satan, the Dragon
The Antichrist
The False Prophet
The Two Witnesses
The 144,000 Jewish Witnesses
Tribulation Saints and Martyrs
The Unredeemed Multitudes
The Role of Angels

Epilogue: It's Later Than It's Ever Been
Notes
About the Authors
---
AUTHOR PROFILES
Dr. Tim LaHaye who conceived the Left Behind Series, is a renowned prophecy scholar, minister, and educator. He has written over 50 nonfiction works that have been published in more than 37 languages. He and his wife, Beverly, live in Southern California.
Jerry B. Jenkin's novels have sold more than 70 million copies. His books have appeared on the New York Times, USA Today, Publishers Weekly, and Wall Street Journal best seller lists. He and Dr. LaHaye have been featured on the cover of Newsweek magazine. Jerry and his wife, Dianna, live in Colorado Springs.
---
BOOK SPECIFICATIONS
412 pages, paper
ISBN 9781414347936