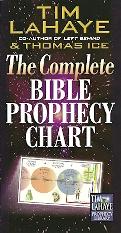 THE COMPLETE BIBLE PROPHECY CHART

Tim LaHaye and Thomas Ice, 2001



This chart presents a complete panorama of much that happens in the Bible--both the past and the future--all on one chart. Starting in eternity past, this chart takes you step by step through each of the major ages in God's master plan, beginning with the Age of Innocence and continuing onward to the Millennial Kingdom and beyond, into eternity. Chart measures 9 inches tall by 28 inches long when unfolded. Also available as part of the book, Charting the End Times.


---
Copyright 2011 by Cliffside Publishing House