Home
About Us
FAQ
Privacy Policy
Contact Us
Books
DVDs
VHS
Charts
Audio Books
General Information
Secure Order Form
Mail & Fax Orders
Shipping Rates

Mastercard
Visa, Discover
* * *
Phone Toll Free:
1-877-577-8743
within U.S.A.
* * *
International
1-336-246-2663
All charts on this page are Premillennial, Pre-Tribulation.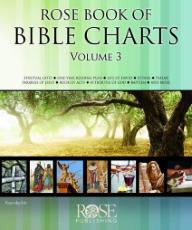 ROSE BOOK OF BIBLE CHARTS: Volume 3

Rose Publishing, 2014



Volume 3 of the Leading Full-color Bible Chart Book Series! Discover what you need to know about 27 key Bible topics at a glance. This 220-page reference book is packed with REPRODUCIBLE Bible charts, Bible timelines, and Bible overviews. Its full-color visuals will add depth to any Old and New Testament study. Perfect for personal use, small group curriculum, home school curriculum, or adult Sunday School lessons. 239 pages, index, spiral-bound hardcover.

More Information and Table of Contents



---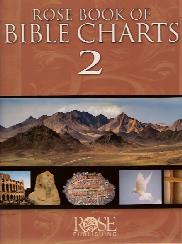 ROSE BOOK OF BIBLE CHARTS 2

Rose Publishing, 2008



The Rose Book of Bible Charts Volume 2 contains 256 pages of popular Rose Bible charts in one book! Every page is REPRODUCIBLE for your personal use, group Bible study, or classroom. Perfect for busy people who want 100's of facts at a glance. In cludes full-color charts that make Bible topics and Christian teachings simple, concise, and easy to understand. 233 pages, index, spiral-bound hardcover.

More Information and Table of Contents



---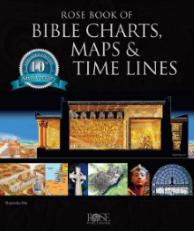 ROSE BOOK OF BIBLE CHARTS, MAPS & TIME LINES

Rose Publishing, 2005



Now you can have 35 popular Rose Publishing Bible charts, maps, and time lines in one spiral-bound book. These charts separately would cost more than $250.00. Plus you can reproduce up to 300 copies of any chart free of charge (use in one church, not for sale). 192 pages, hardcover.

More Information and Table of Contents




---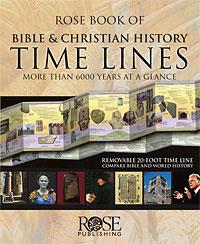 ROSE BOOK OF BIBLE & CHRISTIAN HISTORY TIME LINES

Rose Publishing, 2006



Here are 6000 years and 20 feet of time lines in one beautiful hard-bound cover book! From Adam to modern times, this large print, easy-to-understand Bible study tool will help you compare Bible and world history. Read it like a book, or pull out the 20-foot time line and post it on the wall.
---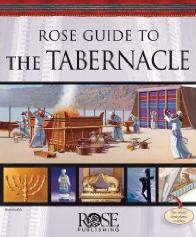 ROSE GUIDE TO THE TABERNACLE
With Clear Plastic Overlays and Reproducible Charts

Rose Publishing, 2008



Full color, reproducible book on the The Tabernacle, with clear plastic overlays of the coverings of the "tent of meeting." The Tabernacle was the place where the Israelites worshiped God after the Exodus. Learn how the sacrifices, utensils, and even the structure of the tabernacle were designed to show us something about God. See the parallels between the Old Testament sacrifices and priests' duties, and Jesus' service as the perfect sacrifice and perfect high priest. See how: The Tabernacle was built; The sacrifices pointed towards Jesus Christ; The design of the tent revealed God's holiness and humanity's need for God; The Ark of the Covenant was at the center of worship. Full color with eight clear plastic overlays showing inside/outside of the tabernacle; plus dozens of reproducible charts. You may reproduce up to 300 copies of any chart free of charge for your classroom. 115 pages, index, spiral-bound hardcover.

More Information and Table of Contents


---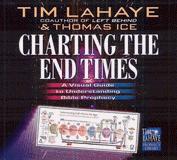 CHARTING THE END TIMES
A Visual Guide to Bible Prophecy & Its Fulfillment

Tim LaHaye and Thomas Ice, 2001



Two authors and prophecy experts have teamed up to produce an incredible new and unique book that provides a graphic picture of what the end times will look like. Features stimulating text; over 50 dynamic color charts; timelines to clarify end-times chronology; and a foldout panoramic view of God's plan for the ages. 124 pages, hardcover.
---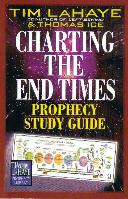 CHARTING THE END TIMES PROPHECY STUDY GUIDE

Tim Lahaye & Thomas Ice, 2002



In the Charting the End Times Prophecy Study Guide, you won't just read about Bible prophecy. You'll interact with the future directly as you walk through the studies and complete the charts yourself. As a result, you'll gain a strong understanding of God's prophetic truth and discover what it means to you personally. This study is based on Tim LaHaye and Thomas Ice's bestselling book Charting the End Times. 139 pages, paper.

More Information, Table of Contents, Author Profile
---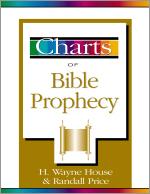 CHARTS OF BIBLE PROPHECY

H. Wayne House & Randall Price, 2003



An outline of the major issues and themes in Bible prophecy-presented in the form of 120 charts This chart book is designed to be read and understood by any student of the Bible, but its detail and comprehensiveness serves the specialist as well. Unlike books on prophecy that deal with the subject from a particular perspective, this book is evenhanded, presenting different views side by side for reader comparison. 175 pages, paper.

More Information, Table of Contents, Author Profiles.
---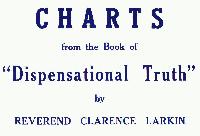 BOOK OF CHARTS
Clarence Larkin, 1921



This is a comb-bound set of charts that appear in Larkin's most famous book, The Greatest Book on Dispensational Truth in the World. There are 62 black and white charts. Each chart measures 10 inches high by 21 inches wide. Charts cover every topic of Bible prophecy and much more. A great collector's item! See listing for Larkin's charts above for sample photos. 62 pages, comb bound.

Individual Clarence Larkin Charts.
---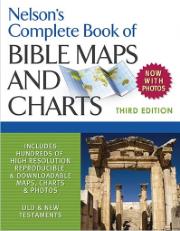 NELSON'S COMPLETE BOOK OF BIBLE MAPS AND CHARTS
3rd Edition

Thomas Nelson Publishers, 1993, 1996, 2010



This updated edition of Thomas Nelsonís popular Complete Book of Bible Maps and Charts has everything you need to visualize the events, places, and people in the Old and New Testaments. Perfect for small-group leaders, Bible school teachers, or if youíre simply curious about biblical times, Complete Book of Bible Maps and Charts provides a visual overview of the Bible in its entirety. Valuable resources include new, full-color, high-resolution maps and charts along with downloadable PDFs for presentations and classes; tables, charts, and diagrams that organize Bible information for ease of learning and memorization; historical articles providing insight into Bible times; and introductions to each book of the Bible. 470 pages, paperback, index.
---
REPRODUCIBLE MAPS, CHARTS, TIME LINES & ILLUSTRATIONS

Gospel Light, 1989



Here are nearly 300 pages of reproducible charts, graphs, maps, and graphic illustrations to make your lessons come alive.This book shows the purpose/theme, key verse, main people, and outline for each biblical book. Each page is fully reproducible and perforated. You can copy and share biblical timelines, an inside view of Solomon's Temple, or a map of Rome. Each "teaching picture" reinforces facts, places, events, and people in God's Word. This book also includes building schematics, and a read-through-the-Bible plan and the visuals from the best-selling NIV Study Bible and What the Bible Is All About. 285 pages, large format paperback, illustrated.
---
HOLMAN BOOK OF BIBLICAL CHARTS, MAPS, AND RECONSTRUCTIONS

Marsha A. Ellis Smith, Editor, 1994



This complete one-volume set of Bible charts, maps and artist's renderings of biblical cities and artifacts opens the eyes of your understanding in a fresh way and provides a deeper dimension to personal and group Bible study. Special features include:
83 pages of full-color Bible charts featuring time lines, the teachings of Jesus, family trees, the linage of ancient rulers, historical events and more.
22 pages of carefully detailed full-color maps of Bible lands.
21 pages of illustrated scale reconstructions of biblical cities and artifacts.
Cross references to the Holman Bible Handbook, Holman Bible Dictionary and the Disciples's Study Bible.
A flip-chart format and a stand-alone option for use in classroom or home Bible studies.
Color-coded tabs separating each section for quick reference.
A map index.
176 pages, spiralbound hardcover, illustrated.
---
TOP | HOME
Copyright 1998-2015 by Cliffside Publishing House