Home
About Us
FAQ
Privacy Policy
Contact Us
Books
DVDs
VHS
Charts
Audio Books
General Information
Secure Order Form
Mail & Fax Orders
Shipping Rates

Mastercard
Visa, Discover
* * *
Phone Toll Free:
1-877-577-8743
within U.S.A.
* * *
International
1-336-246-2663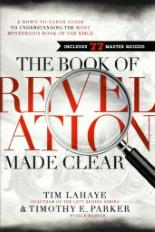 THE BOOK OF REVELATION MADE CLEAR
A Down-To-Earth Guide To Understanding the Most Mysterious Book of the Bible

Tim LaHaye & Timothy E. Parker, 2014


$19.95
Retail $22.99
Ships within
24 hours!


The Bible's final book, Revelation, can seem intimidating or downright impossible to comprehend, even for series students of the Scriptures. Fillwith complex imagery, vivid depictions of violence, and challenging spiritual references, Revelation is often set aside by readers in favor of more straightforward, easier-to-digest biblical material. Yet the capstone of the canon need not remain a mystery. In this refreshingly accessible book, Bible scholar and best-selling author Tim LaHaye and renowned puzzle master Timothy E. Parker demystify Revelation for your benefit. 206 pages, hardcover, appendices.
More Information, Table of Contents, Author Profiles
---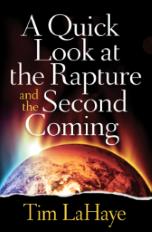 A QUICK LOOK AT THE RAPTURE AND THE SECOND COMING

Tim LaHaye, 2013



What is the rapture? When is the second coming? Why is there so much talk about Bible prophecy, and what is it all about? There's no better place to go for clear, specific answers than to God's Word, which is what Bible prophecy expert Tim LaHaye does in this Quick Look guide to the last days. This book, based on decades of careful research, presents a concise picture of the end times. You'll learn about the two most important events to take place in the future—the rapture and second coming—and along the way, discover answers to questions such as…
Will Christ's return be literal, or is it merely symbolic?
What signs of the last days can we expect to see in the days ahead?
How can you be ready for these events?
59 pages, paperback.
More Information, Table of Contents, Author Profile
---
THE POPULAR HANDBOOK ON THE RAPTURE
Experts Speak Out on End-Times Prophecy

Tim LaHaye, Thomas Ice & Ed Hindson, general editors, 2011


Why is there so much confusion about how and when the rapture will take place?
What does the Bible say for certain about this event?
When will the Tribulation occur, and who will face it?
There is a lot of discussion among Christians about the rapture and the last days. Why all the different views? And how do those perspectives line up with Scripture? Tim LaHaye and Thomas Ice have assembled a team of longtime Bible prophecy experts who look carefully to God's Word for the answers. In this book, readers will discover what they can know for certain. And as they consider the things that still remain uncertain, they will gain a renewed trust that God knows what He is doing. His plan is perfect, and it will unfold in His timing. An easy-to-understand resource that provides much-needed clarification about the end times. 313 pages, paperback.
More Information, Table of Contents, Editor Profiles
---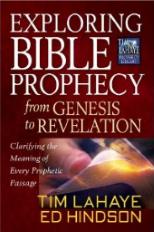 EXPLORING BIBLE PROPHECY FROM GENESIS TO REVELATION

Tim LaHaye & Ed Hindson, 2006



Formerly titled The Popular Bible Prophecy Commentary

Here is an indispensable, all-in-one resource on the prophecies of the Bible! It's all here—clear and concise explanations for the key Bible prophecies from Genesis to Revelation. Written by Bible scholars but created for everyday readers and Bible students, this volume makes it possible for users to expand their knowledge of prophecy in ways unmatched by other books. Among the notable features are…
More than 500 easy-to-read pages of explanatory comments about the prophecies in God's Word
Useful charts, diagrams, and time lines
Simple format for easy referencing
Helpful word definitions
Special attention to Bible passages that are particularly difficult or important
Assembled by bestselling prophecy teachers Tim LaHaye and Ed Hindson, along with a team of highly qualified contributors, this is a must-have for every Christian library. 557 pages, paperback, bibliography, chart index, topical index.
More Information, Table of Contents, Editor Profiles
---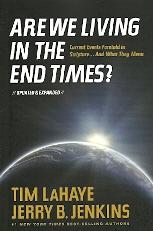 ARE WE LIVING IN THE END TIMES?
Current Events Foretold in Scripture... And What They Mean
Updated & Expanded

Tim LaHaye and Jerry Jenkins, 1999, 2011



Twenty-seven percent of the Bible is devoted to prophecy. But most of us don't focus 27 percent of our personal Bible study on prophecy. Why? We're confused. Or intimidated. Or both. This book takes away the mystery--and the intimidation. From the creators of the Left Behind Series--Tim LaHaye and Jerry Jenkins--comes a truly astonishing book. User-friendly for the layperson. Remarkably complete for the scholar. 412 pages, paper.

More Information, Table of Contents, Author Profiles
---
UNDERSTANDING BIBLE PROPHECY FOR YOURSELF
Updated and Expanded

Tim LaHaye, 2002/2009



Tim LaHaye's bestselling book (more than 110,000 copies sold) has been redesigned to make its content even more accessible to readers and updated to include timely information relevant to biblical prophecy and current events. This easy–to–follow guide offers the tools believers need to accurately interpret biblical prophecy. Includes:
Solid guidelines for accurately interpreting Bible prophecy.
Charts that present a clear outline of the future.
Step–by–step examples of how to interpret Bible passages on the rapture, second coming, and millennial kingdom.
Exercises that help readers understand key Bible prophecies.
A comprehensive overview of God's plan for the future.
243 pages, paper.
More Information, Table of Contents, Author Profile
---
THE POPULAR ENCYCLOPEDIA OF BIBLE PROPHECY: Over 140 Topics from the World's Foremost Prophecy Experts

Tim LaHaye & Ed Hindson, 2004



Bestselling prophecy teachers Tim Lahaye and Ed Hindson, along with managing editor Wayne A. Brindle, have brought together an outstanding team of more than 40 premillennial prophecy and theology experts to produce this easy-to-use encyclopedia brimming with more than 400 pages of fascinating facts, information, and charts about the last days. Includes:
the meaning of words and phrases such as Armageddon, premillennial, and the kingdom of heaven.
the key players in the last days, such as the Antichrist, the two witnesses, and the False Prophet.
the pivotal events of the end times, such as the rapture, the abomination of desolation, and the glorious appearing.
the time line of God's still-unfolding plan for the ages, from today all the way to eternity.
414 pages, hardcover.
---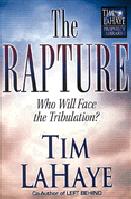 THE RAPTURE
Who Will Face the Tribulation?

Tim LaHaye, 2002



Will Christians be spared the horrors of the end times described in Revelation? Believers have wrestled with this question for centuries, and arrived at different conclusions. In this easy-to-read volume, the best-selling author of Left Behind explains why he's convinced of the pre-tribulation theory---and shares evidence from Scripture. (Previously titled Rapture Under Attack.) 250 pages, paper.

More Information, Table of Contents, Author Profile
---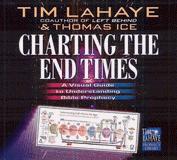 CHARTING THE END TIMES
A Visual Guide to Bible Prophecy & Its Fulfillment

Tim LaHaye and Thomas Ice, 2001



Two authors and prophecy experts have teamed up to produce an incredible new and unique book that provides a graphic picture of what the end times will look like. Features stimulating text; over 50 dynamic color charts; timelines to clarify end-times chronology; and a foldout panoramic view of God's plan for the ages. 124 pages, hardcover.
---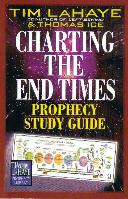 CHARTING THE END TIMES PROPHECY STUDY GUIDE

Tim Lahaye & Thomas Ice, 2002



In the Charting the End Times Prophecy Study Guide, you won't just read about Bible prophecy. You'll interact with the future directly as you walk through the studies and complete the charts yourself. As a result, you'll gain a strong understanding of God's prophetic truth and discover what it means to you personally. This study is based on Tim LaHaye and Thomas Ice's bestselling book Charting the End Times. 139 pages, paper.

More Information, Table of Contents, Author Profile
---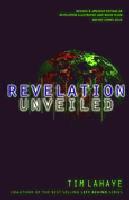 REVELATION UNVEILED
Revised and updated edition of Revelation Illustrated and Made Plain

Tim LaHaye, 1999



Filled with references to LaHaye's best-selling Left Behind novels, this commentary provides an in-depth premillennial perspective on Revelation. It's an updated edition of Revelation Illustrated & Made Plain which explores such critical topics as the rapture, the return of Christ, the final battle against Satan, the new heaven and earth, and more. 378 pages, paper, bibliography

More Information, Table of Contents, Author Profile
---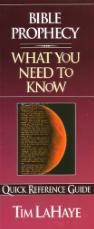 BIBLE PROPHECY: WHAT YOU NEED TO KNOW

Tim LaHaye, 1999



Bestselling author and prophecy expert Tim LaHaye outlines and explains the prophesied end-time events and provides a biblical perspective on current events that are setting the stage for the rapture, tribulation, millennium, and more. Sixteen-page pamphlet answers 34 of the most-asked questions about prophecy.




---
TOP | HOME
Copyright 1998-2013 by Cliffside Publishing House