Home
About Us
FAQ
Privacy Policy
Contact Us
Books
DVDs
VHS
Charts
Audio Books
General Information
Secure Order Form
Mail & Fax Orders
Shipping Rates

Mastercard
Visa, Discover
* * *
Phone Toll Free:
1-877-577-8743
within U.S.A.
* * *
International
1-336-246-2663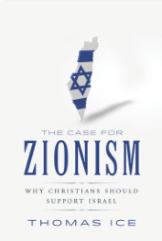 THE CASE FOR ZIONISM
Why Christians Should Support Israel

Thomas Ice, 2017


$14.95
Ships within
24 hours!


The modern state of Israel has been a nation for almost 70 years. When she was formed and fought her early wars of existence, most Bible-believing Christians believed there was a real connection with what was going on in the Middle East and biblical prophecy that predicts an end-time return of the Jews to their land. Thomas Ice answers many of the contemporary arguments being used by both secular and religious communities to undermine what he believes is the hand of God at work in our own day. 220 pages, paperback.
More Information, Table of Contents, Author Profile
---
THE POPULAR HANDBOOK ON THE RAPTURE
Experts Speak Out on End-Times Prophecy

Tim LaHaye, Thomas Ice & Ed Hindson, general editors, 2011


$14.95
Ships within
24 hours!


Why is there so much confusion about how and when the rapture will take place?
What does the Bible say for certain about this event?
When will the Tribulation occur, and who will face it?
There is a lot of discussion among Christians about the rapture and the last days. Why all the different views? And how do those perspectives line up with Scripture? Tim LaHaye and Thomas Ice have assembled a team of longtime Bible prophecy experts who look carefully to Godís Word for the answers. In this book, readers will discover what they can know for certain. And as they consider the things that still remain uncertain, they will gain a renewed trust that God knows what He is doing. His plan is perfect, and it will unfold in His timing. An easy-to-understand resource that provides much-needed clarification about the end times. 313 pages, paperback.
More Information, Table of Contents, Editor Profiles
---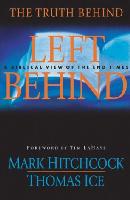 THE TRUTH BEHIND LEFT BEHIND
A Biblical View of the End Times

Mark Hitchcock & Thomas Ice, 2004


$12.95
Ships within
24 hours!


With the unparalleled worldwide success of the Left Behind series, both fans and critics are curious about the relationship between Bible prophecy and the events depicted in the novels. Responding to recent works that question Left Behind's biblical accuracy, two respected theologians set forth solid, biblical answers in this reader-friendly resource. Beginning with a clear presentation of prophecy interpretation and dispensationalism, the authors examine specific end times events represented in Left Behind and offer historical and biblical support for each event. 220 pages, paper.
More Information, Table of Contents, Author Profiles
More Books by Mark Hitchcock
---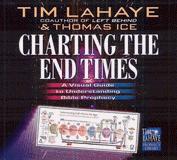 CHARTING THE END TIMES
A Visual Guide to Bible Prophecy & Its Fulfillment

Tim LaHaye and Thomas Ice, 2001


$26.95
Ships within
24 hours!


Two authors and prophecy experts have teamed up to produce an incredible new and unique book that provides a graphic picture of what the end times will look like. Features stimulating text; over 50 dynamic color charts; timelines to clarify end-times chronology; and a foldout panoramic view of God's plan for the ages. 124 pages, hardcover.


---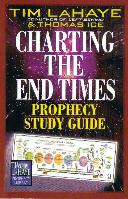 CHARTING THE END TIMES PROPHECY STUDY GUIDE

Tim Lahaye & Thomas Ice, 2002


$8.95
Ships within
24 hours!


In the Charting the End Times Prophecy Study Guide, you won't just read about Bible prophecy. You'll interact with the future directly as you walk through the studies and complete the charts yourself. As a result, you'll gain a strong understanding of God's prophetic truth and discover what it means to you personally. This study is based on Tim LaHaye and Thomas Ice's bestselling book Charting the End Times. 139 pages, paper.
More Information, Table of Contents, Author Profile
---
TOP | HOME
Copyright 1996-2017 by Cliffside Publishing House