Home
About Us
FAQ
Privacy Policy
Contact Us
Books
DVDs
VHS
Charts
Audio Books
General Information
Secure Order Form
Mail & Fax Orders
Shipping Rates

Mastercard
Visa, Discover
* * *
Phone Toll Free:
1-877-577-8743
within U.S.A.
* * *
International
1-336-246-2663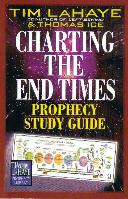 CHARTING THE END TIMES PROPHECY STUDY GUIDE

Tim Lahaye & Thomas Ice, 2002



In the Charting the End Times Prophecy Study Guide, you won't just read about Bible prophecy. You'll interact with the future directly as you walk through the studies and complete the charts yourself. As a result, you'll gain a strong understanding of God's prophetic truth and discover what it means to you personally.

This study is based on Tim LaHaye and Thomas Ice's bestselling book Charting the End Times and includes...
convincing proofs of Christ's future return
a step-by-step chronology of the Tribulation
clear details about the differences between the Rapture and the Second Coming
an overview of the life in the Millennium and in eternity
insights on the different judgments and resurrections to come
Above all, you'll learn highly practical truths about the future that cannot help but change the way you live today. A great resource for both personal study and group settings.

---
TABLE OF CONTENTS
Introduction
The Importance of Bible Prophecy
Understanding God's Plan for the Ages
Why Christians Should Study Bible Prophecy
The Four Pivotal Events of History
The Absolute Certainty of Christ's Return
The Mountain Peaks of Prophecy
The Olivet Discourse
Paul and the Second Coming
The Rapture of the Church
The Judgment and Rewards of Believers
Understanding the Tribulation
Charting the Tribulation
The Campaign of Armageddon and Christ's Return
The Glorious Appearing
The 75-Day Interval
The Millennium, Part 1
The Millennium, Part 2
The Great White Throne Judgment
The Eternal State
The Dispensations
The 70 Weeks of Daniel
The Various Views of the Rapture
The Two Phases of His Coming
The Resurrections and Judgments in Scripture
The Various Views of the Millennium
History's End, Eternity's Beginning
A Final Word

---
AUTHOR PROFILES
Dr. Tim LaHaye is the bestselling author of more than 50 books and is the coauthor of the popular Left Behind Series. His prophecy books include Understandin the Last Days, The Rapture, and the Tim LaHaye Prophecy Study Bible. He is the president of Tim LaHaye Ministries and cofounder of the Pre-Trib Research Center.
Dr. Thomas Ice is executive director of the Pre-Trib Research Center, which he cofounded with Dr. Tim LaHaye. The center is actively involved in researching, teaching, and defending the pretribulational view of the Rapture. Dr. Ice, formerly a pastor, has coauthored more than 20 books and written numerous articles on Bible Prophecy. Click Here to see books by Dr. Ice.

---
BOOK SPECIFICATIONS
139 pages, paper
ISBN 0736909885