Home
About Us
FAQ
Privacy Policy
Contact Us
Books
DVDs
VHS
Charts
Audio Books
General Information
Secure Order Form
Mail & Fax Orders
Shipping Rates

Mastercard
Visa, Discover
* * *
Phone Toll Free:
1-877-577-8743
within U.S.A.
* * *
International
1-336-246-2663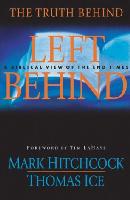 THE TRUTH BEHIND LEFT BEHIND
A Biblical View of the End Times

Mark Hitchcock & Thomas Ice, 2004



With the unparalleled worldwide success of the Left Behind series, both fans and critics are curious about the relationship between Bible prophecy and the events depicted in the novels. Responding to recent works that question Left Behind's biblical accuracy, two respected theologians set forth solid, biblical answers in this reader-friendly resource. Beginning with a clear presentation of prophecy interpretation and dispensationalism, the authors examine specific end times events represented in Left Behind and offer historical and biblical support for each event.

---
TABLE OF CONTENTS
Introduction by Tim LaHaye
PART ONE - HEADLINES

The Truth Behind the Fiction
The Rapture: Left Behind
The Coming Russian/Islamic Invasion: Left Behind
Israel: God's Super Sign: Tribulation Force
Salvation for Those Left Behind: Soul Harvest
The Seven-Year Tribulation: Tribulation Force
New Babylon: Left Behind
Antichrist: Nicolae
The Mark of the Beast: The Mark
World News and Left Behind

PART TWO - FOUNDATIONS

How Should We Interpret Bible Prophecy?
What Is Dispensationalism?
The History of the Rapture
Notes

---
AUTHOR PROFILE
Mark Hitchcock graduated from Dallas Theological Seminary and has since pastored Faith Bible Church in Edmond, Oklahoma. He is the author eleven books including: Seven Signs of the End Times, The Coming Islamic Invasion of Israel, 101 Answers to the Most Asked Questions about the End Times, Bible Prophecy in Light of the Fall of the Soviet Union, What on Earth is Going On?, Is America in Bible Prophecy?, and The Complete Book of Bible Prophecy. Mark and his wife Cheryl, live in Oklahoma with their two sons.
Thomas Ice, executive director of the Pre-Trib Research Center, holds a ThM from Dallas Theological Seminary and a PhD from Tyndale Theological Seminary. Ice is the author of more than twenty books and dozens of articles. He has served as a pastor for fifteen years.

---
BOOK SPECIFICATIONS
220 pages, paper.
ISBN 1590523660