Home
About Us
FAQ
Privacy Policy
Contact Us
Books
DVDs
VHS
Charts
Audio Books
General Information
Secure Order Form
Mail & Fax Orders
Shipping Rates

Mastercard
Visa, Discover
* * *
Phone Toll Free:
1-877-577-8743
within U.S.A.
* * *
International
1-336-246-2663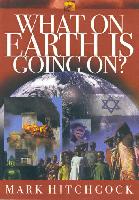 WHAT ON EARTH IS GOING ON?

Mark Hitchcock, 2002



Like others, do you wonder, "What's going on?" does it feel like your global village is getting smaller, your free world more dangerous? Does the evening news sound more and more like play-by-play coverage of unfolding events prophesied in the book of Revelation? Is it possible that Jesus Christ will return soon? Is it time you found out why--and where, and when He said He'd come?

---
TABLE OF CONTENTS
Introduction
9/11
The Worst Is Yet to Come
Signs of the Times?
Israel--God's Supersign
The Coming Islamic Invasion of Israel
War and Peace
The Rush toward Globalism
Moving toward the Mark
Are You Ready?
Notes

---
AUTHOR PROFILE
Mark Hitchcock graduated from Dallas Theological Seminary and has since pastored Faith Bible Church in Edmond, Oklahoma, and written four books: 101 Answers to the Most Asked Questions about the End Times, Bible Prophecy in Light of the Fall of the Soviet Union, Is America in Bible Prophecy? and The Complete Book of Bible Prophecy. Mark and his wife Cheryl, live in Oklahoma with their two sons.

---
BOOK SPECIFICATIONS
110 pages, paper
ISBN 1576738531