Home
About Us
FAQ
Privacy Policy
Contact Us
Books
DVDs
VHS
Charts
Audio Books
General Information
Secure Order Form
Mail & Fax Orders
Shipping Rates

Mastercard
Visa, Discover
* * *
Phone:
1-890-434-5708
* * *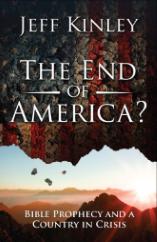 THE END OF AMERICA?
Bible Prophecy and a Country in Crisis

Jeff Kinley, 2017


$13.95
Retail $14.99
Ships within
24 hours!


Will God's Wrath Fall on America? What happens when a country glories in its immorality, turning away from faith in God and obedience to His commands? Jeff Kinley, author of As It Was in the Days of Noah, explores historical and biblical precedents for the demise of a nation and addresses pressing questions such as…How did we get to this point?Is America in Bible prophecy?Will Christians face widespread persecution here?What effect will the rapture have on America?How should I respond to the moral decline? This forthright survey of current events and trends offers valuable perspective on the future of America—as well as powerful motivation to embrace the only source of lasting hope. 256 pages, paperback.
More Information, Table of Contents, Author Profile
---
DISCERNING OUR TIME
A Layman's Guide About America in End Time Prophecy

Richard Bettez, 2017


$13.95
Retail $14.95
Ships within
24 hours!


Discerning Our Time: A Layman's Guide About America in End Time Prophecy is a compelling look at historic and political trends that push the reader to look upon biblical facts as to where America fits in concerning future events. This book is an easy read for people of all backgrounds and education levels. It is a breakdown of exactly what scripture means from original language to historical settings that all connect to American society as we know it today. Though this book gives greater enlightenment to the Christian community and is a solid resource for pastors to draw from, it will truly be an eye-opening experience for the open-minded unbelievers or those who do not consider Christianity of any consequence within their lives. The changes within American society and our culture as well as our political choices are highlighted within the word of God. In this book they are accurately brought out. Church denominations are put to the test as historical truths are revealed and many falsehoods about Christianity are dispelled. Truth about American education, business, and government are documented with the light of scripture shining right next to the facts so the reader can judge for themselves. Many teachers, pastors, and theologians don't believe America plays a significant role in the end times. Some teach that it will be wiped off the map. No one truly knows exact dates or for that matter what the antichrist will look like, but there is a definite template laid out within the Bible; America fits comfortably in that template. This book is a must-read if you are interested in what direction America is heading and who will rise to power in the near future. 225 pages, paperback.
More Information, Contents, Author Profile
---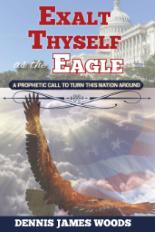 EXALT THYSELF AS THE EAGLE
A Prophetic Call to Turn This Nation Around

Dennis James Woods, 2015


$16.95
Retail $17.99
Ships within
24 hours!


Exalt Thyself as the Eagle, is a thought provoking book that reveals how the prophecies of Obadiah bear a remarkable resemblance to characteristics of the United States. From the words of the most mysterious prophet of the Bible, this eye-opening examination pinpoints prophetic parallels between the ancient Edomites and modern day Americans. Though his prophecy is only twenty-one verses in length, the book of Obadiah packs a powerful end-time message that cannot be ignored. Learn how the power, prestige and pride of Esau's descendants, were foreshadows for the economic, moral and military decline of United States. You will be amazed to discover that America's national symbol, high standard of living, and presence in outer space are not coincidental, but were foreshadowed in Obadiah over twenty-five-hundred years ago. If America is to be saved from the consequences of her actions, there must be national repentance from the White House down. "Exalt Thyself as the Eagle" is the clarion call for America's most precious resource-the Church-to stand up and be counted to ignite the spark of revival-to turn this nation around! 186 pages, paperback.
More Information, Table of Contents, Author Profile
---
PREPARING AMERICA FOR THE WRATH OF GOD

Woodrow L. Polston, 2013



Wars and rumors of wars. Deadly hurricanes, tornadoes, and earthquakes. Intense political, economic, and social unrest around the world. Signs that we are living in the end times are all around us. The day is quickly approaching when we will pay the price for the sins that connect America from coast to coast. It is time for sinners and Christians alike to stop pretending that the sins of our nation will go unpunished. In Preparing America for the Wrath of God, author Woodrow Polston unveils shocking biblical prophecy and revelation, calling America to repent and turn from her sins before it is too late. Preparing America for the Wrath of God will inspire you to devote yourself fully to Christ and boldly share His life-changing message with everyone you meet. 141 pages, paperback.

More Information, Table of Contents, Author Profile
---
THE 9/11 PROPHECY
Startling Evidence the Endtimes Have Begun

James F. Fitzgerald, 2013



As The 9/11 Prophecy argues, with powerful testimony and evidence from Scripture, history, and providence, the events of September 11th were a deliberate act of judgment. Even more, 9/11 set in motion entime prophecies leading to America's certain fall before the rise of Antichrist in this very generation. With penetrating insight, the book sheds light on Paul's veiled prophecy of the specific events that must precede the ascendancy of the "lawless one," the Antichrist. It uncovers America's major hidden role in prophetic Scripture and its critical relation to the religion of the Beast destined to dominate the world before Jesus returns. 231 pages, hardcover, appendix, index.

More Information, Table of Contents, Author Profile
---
IMPLOSION: Can America Recover From Its Economic & Spiritual Challenges in Time?

Joel C. Rosenberg, 2012


---
Bestselling author and international political expert Joel C. Rosenberg tackles the question: Is America an empire in decline or a nation poised for a historic Renaissance?
America teeters on a precipice. In the midst of financial turmoil, political uncertainty, declining morality, the constant threat of natural disasters, and myriad other daunting challenges, many wonder what the future holds for this once-great nation. Will history's greatest democracy stage a miraculous comeback, returning to the forefront of the world's economic and spiritual stage? Can America's religious past be repeated today with a third Great Awakening? Or will the rise of China, Russia, and other nations, coupled with the US's internal struggles, send her into a decline from which there can be no return?
Implosion helps readers understand the economic, social, and spiritual challenges facing the United States in the 21st century, through the lens of biblical prophecy.
More Information, Table of Contents, Author Profile
More Books by Joel C. Rosenberg
---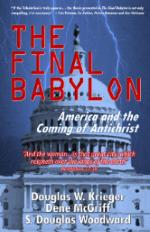 THE FINAL BABYLON
America and the Coming of Antichrist

Douglas W. Krieger, Dene McGriff & S. Douglas Woodward, 2013


$24.95
Ships within
24 hours!


What if the Antichrist were an American leader? What if he were alive today and living in the U.S.A? What if he were only a few years away from revealing himself to the world? Instead of being omitted from Bible prophecy as many of the major eschatology scholars have taught for decades, what if America were at the very center of Bible prophecy? What if the U.S.A., rather than Europe, Rome, or Babylon, were the power base of Satan's conspiracy against the Kingdom of God? These three authors, Douglas W. Krieger, Dene McGriff, and S. Douglas Woodward, argue just that. Together, they have written what may be seen as a landmark book rethinking the traditional prophetic scenario in light of developments in America and the Middle East. 340 pages, paperback, appendix, bibliography.
More Information, Table of Contents, Author Profiles
---
ONE NATION, UNDER ATTACK
How Big-Government Liberals Are Destroying the America You Love

Grant R. Jeffrey, 2012



The enemies of free-market capitalism have launched their final attack. History's most powerful nation soon will be reduced to an isolated, impoverished country with no influence over international affairs. A close reading of prophecy reveals no mention of the United States. The wealthiest and most powerful nation in history will play no visible role in the culminating events of this age. Prophecy expert Grant R. Jeffrey has exposed the hidden causes behind the rapid disappearance of America as we know it. No longer will other nations count on America to come to their aid. Aggressor nations will not have to fear the possibility of U.S. retaliation because very soon, America will be too weak to take action. And just at the time when the United States is weakened nearly beyond recognition, the Antichrist will unleash his evil rule over the world. When America falls, the collapse will come rapidly. It is to your advantage to know in advance what to look for. In One Nation, Under Attack you will find a workable plan to help you protect your family and your future from the far-reaching economic devastation to come. 214 pages, paperback, appendix.

More Information, Table of Contents, Author Profile
More Books by Grant R. Jeffrey
---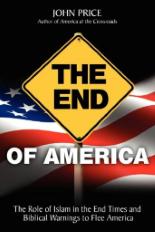 THE END OF AMERICA
The Role of Islam in the End Times and Biblical Warnings to Flee America
Third Edition

John Price, 2012



The End of America - The Role of Islam in the End Times and Biblical Warnings to Flee America interprets Biblical prophecies describing a rich, powerful and influential end times nation, destroyed in one day/hour/moment. Twenty-one scriptural clues unlock the "mystery" of the identity of the nation. Muslim prophecies and speeches are linked to Bible warnings of destruction. Verses are analyzed advising American Christians and Jews to flee the nation. When and where to flee and world events to watch for are detailed. 339 pages, paperback, bibliography, index.

More Information, Table of Contents, Author Profile
---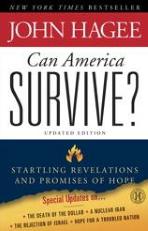 CAN AMERICA SURVIVE?: Updated Edition - Paperback
Startling Revelations and Promises of Hope

John Hagee, 2010, 2011



This paperback version of Pastor John Hagee's newest book has ripped-from-the-headlines updates. New material has been added regarding the death of the dollar, a nuclear Iran, and the rejection of Israel. Further, this New York Times best-selling author says the United States is heading into a "Perfect Storm." Titanic. John F. Kennedy's assassination. 9/11. John Hagee maintains that these American tragedies all have one element in common: they were unthinkable. And in the opening pages of his newest book, Can America Survive? Hagee uses these tragedies to prove two points: that the unthinkable can happen and, given the right conditions, the unthinkable can quickly become the inevitable. 300 pages, paperback.

More Information, Table of Contents, Author Profile
---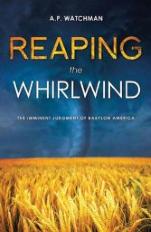 REAPING THE WHIRLWIND
The Imminent Judgment of Babylon America

A.P. Watchman, 2010



"Little children, it is the last hour…" So wrote the beloved apostle John. Two thousand years later we are living in the final moments of history. God's people are beginning to lift up their heads, knowing their redemption draws near. Where are we in the prophetic timetable? What momentous event of Bible prophecy will we witness next? Will America be judged before the rapture of the church? Reaping the Whirlwind begins with a primer on the nature of judgment and wrath. Through Jesus' eyes we see God as neither a harmless Teddy bear nor a vengeful tyrant, but as Agape, the Consuming Fire. We can then fearlessly examine the ancient prophesies about America. We can lay aside the popular fables that have lulled us to sleep. By casting aside false comfort, we are free to receive God's comfort, which stirs us up to love and good works. 366 pages, paperback, bibliography.

More Information, Table of Contents, Author Profile.
---
GLOBAL FINANCIAL APOCALYPSE PROPHESIED
Preserving True Riches in an Age of Deception and Trouble

Wilfred J. Hahn, 2009



With his expertise spanning both Scripture and the trends of a globalizing world, Hahn documents that the present global financial crisis is not the final one prophesied in Scripture but part of an accelerating process. Much worse lies ahead for the world. However, the future stands to unfold deceptively, counting many more victims and captives. Will you be safe? Global Financial Apocalypse Prophesied provides piercing perspectives into a modern world that is rushing toward its prophesied destiny. Crucially, for the Christian, the great perilous, faith-killing times are today …a form of "Apocalypse Now" for the believer. How can Christians prevent becoming prey to the lethal devices of a rapidly encroaching endtime money snare and remain faithful and free stewards? For those seeking answers, this book is a needed guiding light in the midst of the current turmoil. 371 pages, paperback.

More Information, Table of Contents, Author Profile
---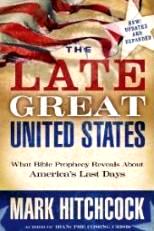 THE LATE GREAT UNITED STATES - Updated and Expanded!
What Bible Prophecy Reveals About America's Last Days

Mark Hitchcock, 2009, 2010



Every day brings more news of a world that seems to teeter on a disastrous precipice: Wars of genocide; Massive earthquakes and typhoons; The rising cost of foreign oil; Terrorist bombings; Economic disasters and lost security; Crushing federal debt; Famine and worldwide hunger; A tidal wave of illegal immigrants.

How many of these events and crises are signs of the "end times"? And what will become of the United States? Will America continue to slip as today's lone world superpower, and will it even exist when the sounds of warfare rumble at the Battle of Armageddon? Clearly explaining the end time prophecies of Scripture, Mark Hitchcock shows that today's geopolitical situation corresponds remarkably to what the Bible predicted thousands of years ago. Prophecies previously dismissed as unbelievable now read like news headlines. 193 pages, paperback.

More Information, Table of Contents, Author Profile
More Books by Mark Hitchcock
---
THE STONE KINGDOM - AMERICA

E. Raymond Capt, 2008



God caused Daniel to look down the long corridor of time and record the rise of the four great non-Israel world empires or kingdoms and their ultimate destruction by the fifth and final kingdom known as the Stone Kingdom. In his book Stone Kingdom Mr. Capt traces the history of each of these four empires: Babylon Medo-Persia Greece and Rome and their relationship with this fifth and final kingdom. All other governments or kingdoms have risen flourished for a while and fallen. Not so with the Stone Kingdom. It had a time to be born especially marked in the Scriptures but will have no end. This final kingdom began according to the Book of Daniel as a stone cut out without hands which in time would become a great mountain and eventually fill the whole earth. What is this Stone Kingdom that was prophesied to come and reign forever? Mr. Capt presents compelling evidence that the United States of America is that final kingdom! 249 pages, paperback. View: British-Israel.

More Information, Table of Contents
---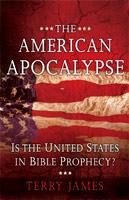 THE AMERICAN APOCALYPSE
Is the United States in Bible Prophecy?

Terry James, 2009



Does America-the most powerful nation on Earth-appear in Bible prophecy? Some people believe the United States will be wiped out in a nuclear attack. Others say it's where the Antichrist will rise. And many people wonder what life will be like in America during the seven-year Tribulation. But what can we know for sure? And what events are setting the stage for the last days, not only in America but globally? Terry James, who has spoken and written extensively on Bible prophecy, addresses these issues and more as he examines the pivotal role America will play:
The irreversible move toward one world government
The rise in world spirituality yet hatred toward true Christianity
The danger signs in America's faltering economic system
The new world superpower on the horizon
The peace that will lead to the world's greatest war
292 pages, paper.
More Information, Table of Contents, Author Profile
---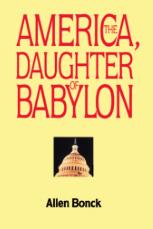 AMERICA, THE DAUGHTER OF BABYLON

Allen Bonck, 1989, 2008



America, the Daughter of Babylon deals with the prophetic future of the United States of America. The Bible reveals that there will be a second nation of Babylon, which is described in detail throughout scripture and can be identified as America. The Bible not only identifies America, but also gives detailed accounts of future events concerning her. God has much to say to us today about our relationship to Babylon and the Babylonian religion. This book reveals that many of the symbols of the Babylonian religion that was created by Lucifer himself, King of Babylon, are displayed as American symbols throughout her Capitol. Its cornerstone to the founding of Babel directly links the American Capitol itself. 141 pages, paperback, index.

More Information, Table of Contents, Author Profile
---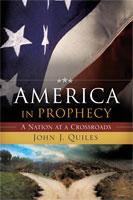 AMERICA IN PROPHECY
A Nation at a Crossroads

John J. Quiles, 2008



Are we living in the last days? If the Lord is due to appear soon as many seem to think, what work is He performing in the earth today? And how does it relate to you and me? Scripture tells us that the end has been revealed from the beginning. Of the many signs suggesting that our Lord's return is near, two in particular are of great interest. These events have major implications for us as Americans, and specifically as Christians. If you desire to understand the big picture and want to know how God is moving among His people in the last days, if you have a hunger for the truth, this book is for you. At a time when most Christians in this country are regarded as hypocrites, we stand at a crossroads as a nation and as individuals. Scripture tells us that our Lord is returning for a spotless bride. Will we be ready when He appears? America in Prophecy reveals how we can be. 359 pages, paper.

More Information, Table of Contents, Author Profile


---
THE LATE GREAT USA
The Coming War with Iran

Larry Pahl, 2008



Many students of the Bible have claimed that the great empires in world history have been prophesied in the pages of the Bible. Egypt, Assyria, Babylon, Persia, Greece and Rome are all there. But does the ancient book provide clues to the place of the most powerful nation in the history of the world? Is the United States described in the Bible? Find out how accurately the prophet Daniel from 2,500 years ago, and the book of Revelation from 2,000 years ago, pinpoint the current conflict of the U.S. and Iran. 84 pages, paper, index.

More Information, Table of Contents


---
THE USA IN BIBLE PROPHECY
Our Great Country Foretold in the Holy Scriptures and the Battle of Armageddon
Revised and Expanded Edition

F.E. Pitts, 2003, 2010



This book presents an amazing sermon by Rev. F. E. Pitts of Nashville Tennessee to a joint session of Congress in 1857 (four years before the Civil War) in which he named the UNITED STATES as the last great power (Stone Kingdom of Daniel 2). He offers scripture after scripture proving that America is The New Jerusaleum (Zion) spoken of by the prophets to be established before the return of Christ. Furthermore he educates us on our responsibilities during this wondrous time in history. The last half of the book contains excerpts from Our Great Seal and Abrahamic Covenant by E. Raymond Capt noted Christian author archaeologist and historian. With the advantage of living in this latter time he is able to shed additional light on this subject not fully known by our early American ancestors. 134 pages, paperback. View: British-Israel

More Information, Table of Contents
---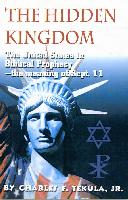 THE HIDDEN KINGDOM
The United States in Biblical Prophecy--the meaning of Sept. 11

Charles F. Tekula, Jr, 2002



The Hidden Kingdom follows the story of Abraham and his prophetic legacy handed down from father to son. The Old Testament prophets pointed to a "company of nations" richly blessed in every way as the last days abode of the descendants of Joseph, favorite son of Jacob, who was grandson and chosen heir to Abraham. Tekula has uncovered for us the eminently prominent place the United States occupies in the prophetic history mapped out in the Holy Scriptures. The Hidden Kingdom follows the prophetic bridge over the gap between the Old and New Testaments using the theme of the Abrahamic Birthright promises. 152 pages, paper. View: British-Israel

More Information, Table of Contents, Author Profile
---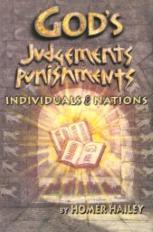 GOD'S JUDGEMENTS & PUNISHMENTS
Individuals & Nations
Homer Hailey, 2003



In the week following the infamy of September 11th, 2001, a second assault was launched--this time by two well-known televangelists who had teh temerity to suggest that the terrorist attack on the United States bore the unmistakable imprint of God's own hand, bringing judgment against a morally rebellious and sinful nation. Naturally, a shocked and mourning "Christian nation" rejected out of hand so insensitive a conclusion. It is difficult enough to ask how God could even allow such hateful carnage to happen; but to go further and suggest that God, Himself, might have masterminded the heinous attack is unthinkable!... Or is it...? This book is a two-part study regarding God's eternal character and the character of His judgments on nations and individuals. 220 pages, paper, bibliography.

More Information, Table of Contents


---
THROUGH THE PROPHET'S EYE

Marshall Best, 2000



Author's Note: "The recent terror at the World Trade Center has many people looking to New York City as being Revelation's City of Babylon. They are right on the money, but the worst is yet to come. Other events we are seeing today, with the Crimean-Congo Hemorrhagic Fever outbreak among the Afghan refugees in Pakistan and the Anthrax warfare being conducted by bin Laden upon the US, sound remarkably appropriate to the fourth seal in Revelation 6: 7-8 of pestilence and the grave. Particularly fitting to prophecy is the warfare being waged against the Taliban forces who are hiding in caves and underground bunkers in Afghanistan. This is evident when compared to the sixth seal of Revelation 6:12-17. My study of history and prophecy shows that the US will not only be a part of the end times, but will play a dominant role. Through the Prophet's Eye is a particularly important 'must read' for the student of Bible prophecy."

In this bold and provacative work, Marshall Best delivers a refreshingly original perspective to understanding end-times prophecy. He argues that the theories which have come to dominate our thinking today have arisen from ages past when men could not possibly have imagined the world in which we live today. His scholarly work challenges modern Christianity's eschatological theology head-on. Includes a full chapter on New York City being the 'Babylon' of Revelation 18, explaining in depth the clues to its identity, and the events of its destruction. 750 pages, hardcover, bibliography.

More Information, Table of Contents, Author Profile


---
TOP | HOME
Copyright 2001-2017 by Cliffside Publishing House