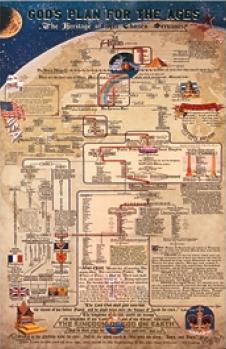 GOD'S PLAN FOR THE AGES - CHART
The Heritage of His Chosen Servants

Artisan Publishers, n.d.



Beginning with Adam in 4001 B.C. this beautiful multi-colored chart traces God's people Israel down through the ages of history to where they are today.

A wonderful way to introduce this exciting teaching to friends and family and other interested parties!

Poster size approx 13" x 18" printed in full color on heavy paper stock.









---
THE USA IN BIBLE PROPHECY
Our Great Country Foretold in the Holy Scriptures and the Battle of Armageddon
Revised and Expanded Edition

F.E. Pitts, 2003, 2010



This book presents an amazing sermon by Rev. F. E. Pitts of Nashville Tennessee to a joint session of Congress in 1857 (four years before the Civil War) in which he named the UNITED STATES as the last great power (Stone Kingdom of Daniel 2). He offers scripture after scripture proving that America is The New Jerusaleum (Zion) spoken of by the prophets to be established before the return of Christ. Furthermore he educates us on our responsibilities during this wondrous time in history. The last half of the book contains excerpts from Our Great Seal and Abrahamic Covenant by E. Raymond Capt noted Christian author archaeologist and historian. With the advantage of living in this latter time he is able to shed additional light on this subject not fully known by our early American ancestors. 134 pages, paperback.

More Information, Table of Contents
---
THE STONE KINGDOM - AMERICA

E. Raymond Capt, 2008



God caused Daniel to look down the long corridor of time and record the rise of the four great non-Israel world empires or kingdoms and their ultimate destruction by the fifth and final kingdom known as the Stone Kingdom. In his book Stone Kingdom Mr. Capt traces the history of each of these four empires: Babylon Medo-Persia Greece and Rome and their relationship with this fifth and final kingdom. All other governments or kingdoms have risen flourished for a while and fallen. Not so with the Stone Kingdom. It had a time to be born especially marked in the Scriptures but will have no end. This final kingdom began according to the Book of Daniel as a stone cut out without hands which in time would become a great mountain and eventually fill the whole earth. What is this Stone Kingdom that was prophesied to come and reign forever? Mr. Capt presents compelling evidence that the United States of America is that final kingdom! 249 pages, paperback.

More Information, Table of Contents
---
OLIVET PROPHECIES

E. Raymond Capt, 2002



World renown Biblical archeologist and research historian E. Raymond Capt's latest book takes up the controversial and timely subject of end-times prophecy. The book is an edifying analytical commentary on the exhortations of Christ to His disciples on Mount Olive. Mr. Capt gives us his thoughts on the meaning of Christ's words to his disciples as he responds to their questions and concerns regarding what the future held and what it would be like at the end-times or "Last Days." So many books have been written on this subject - - many based on wild speculation and fantasy; and now Hollywood has gotten into the act with its own brand of exploitation and promotion. It seems there is no limit to what man can imagine the future will be like when that period known as the "Last Days" and "Left Behind" is upon us. Capt's thoughtful analysis of the actual meaning of Christ's words regarding future events and the period in history when much of it would take place throws a different light on the subject. Olivet Prophecies will make the reader get out his Bible and reread those passages. 112 pages, paperback.

More Information, Table of Contents
---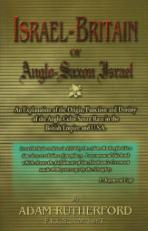 ISRAEL-BRITAIN OR ANGLO-SAXON ISRAEL
An Explanation of the Origin, Function and Destiny of the Anglo-Celto-Saxon Race in the British Empire and U.S.A.
Revised and Abridged Edition

Adam Rutherford, 2002



Adam Rutherford best known for his authoritative and highly respected works showing the connection between Bible prophecy and the Great Pyramid wrote in 1934 Israel - Britain an exciting historical account of the movements over the centuries and final destination of the so-called "Lost Tribes of Israel." 207 pages, paperback, index.

More Information, Table of Contents
---
THE BOOK OF REVELATION
From An Israelite and Historicist Interpretation

Charles A. Jennings, 2001



It is generally believed and taught that the Revelation letter is dealing primarily with the Jewish nation. But a thorough examination of Biblical and historical data, it is very evident that the modern day descendants of the ancient Israelite people are the Anglo-Saxon, Germanic and kindred people. The overall content of Revelation, plus its many Old Testament symbols, emblems and references to historical events proves beyond any doubt that this book is Israelitish in nature. 214 pages, paper, fold-out charts.

More Information, Table of Contents
---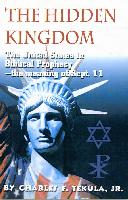 THE HIDDEN KINGDOM
The United States in Biblical Prophecy--the meaning of Sept. 11

Charles F. Tekula, Jr, 2002



The Hidden Kingdom follows the story of Abraham and his prophetic legacy handed down from father to son. The Old Testament prophets pointed to a "company of nations" richly blessed in every way as the last days abode of the descendants of Joseph, favorite son of Jacob, who was grandson and chosen heir to Abraham. Tekula has uncovered for us the eminently prominent place the United States occupies in the prophetic history mapped out in the Holy Scriptures. The Hidden Kingdom follows the prophetic bridge over the gap between the Old and New Testaments using the theme of the Abrahamic Birthright promises. 152 pages, paper.

More Information, Table of Contents, Author Profile
---
TOP | HOME
Copyright 2002-2017 by Cliffside Publishing House