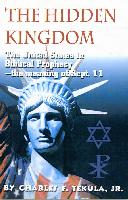 THE HIDDEN KINGDOM
The United States in Biblical Prophecy--the meaning of Sept. 11

Charles F. Tekula, Jr, 2002



The Hidden Kingdom follows the story of Abraham and his prophetic legacy handed down from father to son. The Old Testament prophets pointed to a "company of nations" richly blessed in every way as the last days abode of the descendants of Joseph, favorite son of Jacob, who was grandson and chosen heir to Abraham. Tekula has uncovered for us the eminently prominent place the United States occupies in the prophetic history mapped out in the Holy Scriptures. The Hidden Kingdom follows the prophetic bridge over the gap between the Old and New Testaments using the theme of the Abrahamic Birthright promises.

An earlier manuscript of The Hidden Kingdom was put on file with the U.S. Copyright Office in 1999. It is included substantially intact in this volume. In that manuscript Charles Tekula foretold, using what he had discovered about Biblical prophecy, that the destruction of Babylon, the great seaport city from the Book of Revelation, was to take place in New York City focusing on the World Trade Center.

---
TABLE OF CONTENTS
Foreword
Preface
The Hidden Kingdom: The United States in Biblical Prophecy
MYSTERIES
THE BIBLE
ABDUCTIONS
THE FAITH OF OUR FATHERS
WHAT WOULD IT MEAN?
A RIDDLE
IF THERE ARE OTHER HEBREW NATIONS, WHAT THEN?
THE 15TH CHAPTER OF LUKE
POLITICAL FALLOUT
THE ANGLO SAXONS
THE AUTHOR OF HISTORY
FAITH: A DEFINITION
THE DILEMMA
REVELATIONS AND OTHER PROPHECIES
WHAT I AM SAYING
THE UNITED STATES IN PROPHECY
THE WITHERING VINE AND THE FRUITFUL BOUGH
THE HIDDEN KINGDOM
THE FATTED CALF
20TH CENTURY BONES AND THE GOOD SAMARITANS
REVELATIONS
HOSEA
REPLACEMENT THEOLOGY
ISAIAH'S EXODUS
A TREASURE HIDDEN IN A FIELD
SOME LESS THAN SCHOLARLY OBSERVATIONS
MYSTERY, BABYLON THE GREAT
WASHINGTON'S VISION
AS OTHERS SEE US
THE NEW AGE
WHAT WAS, WHAT WAS TO COME
ODYSSEY
POST-MODERNISM
P.O.V.
FATHER ABRAHAM
OF EMPHASIS AND PARADOX
IN ABRAHAM'S WAKE
OF IRISH DESCENT?
THE GREATEST MYSTERY
IN THE FULLNESS OF TIME
A RETHINKING OF THE GOSPEL
THE NEW JERUSALEM
Epilogue
Afterword
About the Author

---
AUTHOR PROFILE
Charles Tekula is a commercial fisherman living in Long Island, New York. He recently received a Bachelor's Degree in Public Policy / Labor Studies at Empire State College and is awaiting admission to law school.

---
BOOK SPECIFICATIONS
152 pages, paper
ISBN 0595224385