Home
About Us
FAQ
Privacy Policy
Contact Us
Books
DVDs
VHS
Charts
Audio Books
General Information
Secure Order Form
Mail & Fax Orders
Shipping Rates

Mastercard
Visa, Discover
* * *
Phone Toll Free:
1-877-577-8743
within U.S.A.
* * *
International
1-336-246-2663
THE ISAIAH 9:10 JUDGMENT - Set of Two DVDs
A Biblical Prophecy Decoded by Rabbi Jonathan Cahn

Jonathan Cahn, 2012



An obscure passage in the Book of Isaiah describing the fall of ancient Israel has, since September 11, 2001, been eerily re-enacted in the United States exactly as it originally occurred in the time of the great prophet of Israel leading to the nation's demise. Jonathan Cahn, the author of The Harbinger, has been shocking audiences by revealing the astonishing parallels between the fall of ancient Israel and current events unfolding in the US, what he calls "an ancient mystery that holds the secret of America's future and the collapse of the global economy." In this stunning new documentary The Isaiah 9:10 Judgment, Rabbi Cahn unravels the mystery behind this seemingly innocuous Biblical verse, and shows that ancient harbingers of judgment are now manifesting in America, just as they once did in Israel. This fascinating new DVD asks the question, "Is God sending America a prophetic message of what will soon be?" and RabbiCahn provides the answers through mounting evidence that the answer is 'yes.' Widescreen. 120 minutes on two DVDs. DVD Region Code 1 (U.S. & Canada).

More Products by Jonathan Cahn
---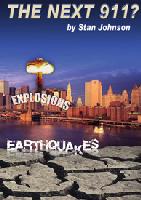 THE NEXT 9/11? - DVD

Stan Johnson, 2007



Is America about to be hit by a series of explosions and the largest earthquake of this generation? Will this provide the excuse to declare a presidential emergency, suspending the Constitution and excuse to attack Iran? Quoting a dream, a Congressman, a Foxnews report, two Prophets and 2 PC speakers, Stan gives 5 credible reasons a series of nuclear explosions may be the next 9/11 soon to hit from 10 to 24 cities. Stan will also give 5 credible reasons why an earthquake could be about to hit California. Two hours, 40 minutes on DVD. DVD Region Code 1 (U.S. & Canada).
---
HOW ILLEGAL IMMIGRATION IS DESTROYING AMERICA - DVD

Major James F. Linzey, 2005



Major James F. Linzey; U.S.Army Officer, Chaplain, and director of Operation Freedom, exposes how the satanic forces in the United States Government allow illegal immigration, giving access to terrorists to invade America's heartland. Find out the myths and lies, and how illegal immigration effects the politics, domestic issues, national security, and terrorist ring in the United States, and what you can do about it. 2hrs. 40 min. DVD Region Code 1 (U.S. & Canada).


---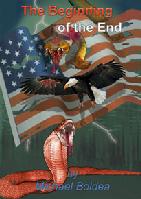 THE BEGINNING OF THE END - DVD

Michael Boldea, 2005



Join Michael Boldea as he shares all the information given to him since May 1997-the death of his grandfather, Dumitru Duduman. God has given him several dreams, in which the same angel who spoke to Dumitru, has revealed secrets unto him, and the future of America. Michael interprets some of his dreams concerning America such as: Season of Sorrow; The Angel said, "This the Church."; Blood on the U.S. Flag; and his most powerful, The Eagle and the Serpent. Some of the many topics included are: *Spiritualization of America *Removal of Christian Values *Beginning of Christian Persecution *Final Events Before the Destruction of America *Christians Not Standing up for Christianity. Michael says,"America, the last superpower, is about to fall; the true church is about to be judged by the world; the great falling away is soon coming; and what little time this nation has left will be troubled." Two hours, 30 minutes. DVD Region Code 1 (U.S. & Canada).


---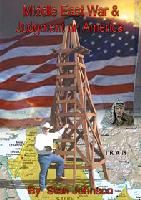 MIDDLE EAST WAR & JUDGMENT ON AMERICA - DVD

Stan Johnson, 2005



If you want to know the future of America and the Middle East, this is the DVD you must see! In this must-have resource, Stan Johnson explains his wife Leslie's dream "Arafat in the Hospital," which presents the signposts to watch for leading up to World War III. Arafat will go into the hospital (fulfilled); oil will be discovered in Israel; the Palestinians will be given a state; and then comes World War III. After this comes judgment on America! Stan also gives you Scripture references to confirm this warning. Don't wait another moment before requesting your copy of Middle East War & Judgment on America! Two hours, 40 minutes. DVD Region Code 1 (U.S. & Canada).


---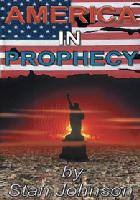 AMERICA IN BIBLE PROPHECY - VHS & DVD

Stan Johnson, 2005


---
In this video Stan Johnson answers the questions, "Is American in Bible Prophecy? Stan teaches thoroughly the chapters of Revelation 18, Jeremiah 50 & 51 and Isaiah 13. Talking verse-by-verse he reveals, and leaves no doubt, where America can be found in Bible prophecy. View: Post-Tribulation. Two hours, 30 minutes. DVD Region Code 1 (U.S. & Canada).
---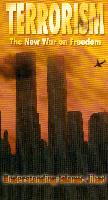 TERRORISM: The New War on Freedom
Understanding Islamic Jihad
VHS & DVD

Caryl Matrisciana and Dr. Peter Hammond, 2002


---
September 11, 2001: The day terrorism invaded the shores of America. This bold video expose goes behind the scenes and courageously documents issues the mainstream media refuses to confront. From the devastation of ground zero in New York, you will be taken to the mountains of Sudan, Africa where millions continue to be slaughtered through terrorist activity. Join author and world religion expert Caryl Matrisciana and Frontline Fellowship Director Dr. Peter Hammond for this in-depth report from the frontlines. 60 minutes. DVD Region Code 1 (U.S. & Canada).
More information on this title
---
PROPHECIES OF THE COMING DARKNESS - VHS Video
A Documentary

Dr. Daniel E. Bohler, 2001



While the church of America awaits the Rapture; plans conferences and constructs newer, larger facilities, the prophetic voice cries out in the streets - "Repend and Pray for Revival, judgment unto repentance is at hand." In times past such warnings were easily dismissed as 'scare-tactics' by skeptics. Now as many of these prophecies begin to come to pass before our eyes the warnings of judgment upon our country become increasingly harder to ignore. As we watch the 'birth pangs' of judgment being fulfilled and documented on this video, it forces the believer and unbeliever alike to take a sober look at their lives and the consequences of ignoring God and violating His eternal law. Prophecies of the Coming Darkness will grip you, shake you and captivate you. It documents what the voice of the prophets have said, how their prophecies have been fulfilled in recent years and what they say is coming in the near future. VHS Video.
---
TOP | HOME
Copyright 2001-2013 by Cliffside Publishing House