Home
About Us
FAQ
Privacy Policy
Contact Us
Books
DVDs
VHS
Charts
Audio Books
General Information
Secure Order Form
Mail & Fax Orders
Shipping Rates

Mastercard
Visa, Discover
* * *
Phone Toll Free:
1-877-577-8743
within U.S.A.
* * *
International
1-336-246-2663
ISRAEL UNDER FIRE - DVD
The Prophetic Chain of Events That Threatens the Middle East

John Ankerberg & Jimmy DeYoung, 2009



In 120 eye-opening minutes, apologist John Ankerberg and journalist Jimmy DeYoung document many signs that point—right now—toward apocalyptic conflict in the Middle East, including explosive issues such as
preparations for rebuilding the Jewish temple on one of Islam's holiest place
external and internal threats to Israel from Palestinian Arabs
Iran's nuclear capability and intention to "wipe Israel off the map"
Adding to the visual impact is incisive Q-and-A footage with figures such as Israeli politicians Benjamin Netanyahu and Moshe Arens and Palestinian Authority spokesman Adnan Husseini. Conversations with numerous rabbis, religious leaders, and other guests round out some of the most exclusive video available on current Middle East spiritual–political issues. The Israel Under Fire DVD offers viewers unmatched insight into the events now being generated by peoples, alliances, and religions—events that will unavoidably involve North Americans and the other billions of the globe. Approximately 120 minutes total running time. DVD Region Code 1 (U.S. & Canada).
Also, get the book version of Israel Under Fire
---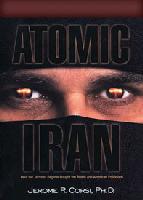 ATOMIC IRAN - DVD

Jerome R. Corsi, Ph.D., 2006



Dr. Jerome Corsi earned his Ph.D from Harvard in 1972 and is an expert on political violence and terrorism. He was recently invited to speak before the Israeli Knesset. Dr. Corsi has also written 15 books, including No. 1 New York Times bestseller Unfit for Command: Swift Boat Veterans Speak Out against John Kerry, as the co-author. Previously, he received a top secret clearance from the Agency for International Development, where he assisted in providing anti-terrorism training to the U.S. Embassy. Today, Dr. Corsi says Iran is on a fast track to complete construction of its first atomic bomb and will not hesitate to use it. He says Iran, a charter member of the "axis of evil," is on a collision course with America. The president of Iran, which controls 40 percent of the world's oil supply, has proclaimed that a mullah (Islamic Messiah) will return to destroy the infidels (non-Muslims) and usher in an Islamic global government. Dr. Corsi now uncovers the true intentions and practices of the Iranian regime. Two hours, 40 minutes. DVD Region Code 1 (U.S. & Canada).


---
ISRAEL IN PROPHECY - Set of Two DVDs

Steve Wohlberg, 2007



Have important Bible truths been "Left Behind?" In this presentation you will discover the New Testament distinction between "Israel after the flesh" (1 Corinthians 10:18) and "the Israel of God" (Galatians 6:14-16) centered in Jesus Christ. You will also gain vital insights into what the Book of Revelation really says about Mount Zion, the New Jerusalem, the Heavenly Temple, Babylon the Great and Armageddon. This timely resource has been a blessing to thousands around the world, and will prove to be a blessing to you! Set of Two DVDs. Full Screen. Region Code: 1.


---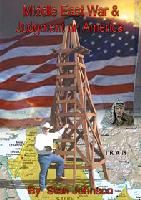 MIDDLE EAST WAR & JUDGMENT ON AMERICA - DVD

Stan Johnson, 2005



If you want to know the future of America and the Middle East, this is the DVD you must see! In this must-have resource, Stan Johnson explains his wife Leslie's dream "Arafat in the Hospital," which presents the signposts to watch for leading up to World War III. Arafat will go into the hospital (fulfilled); oil will be discovered in Israel; the Palestinians will be given a state; and then comes World War III. After this comes judgment on America! Stan also gives you Scripture references to confirm this warning. Don't wait another moment before requesting your copy of Middle East War & Judgment on America! Two hours, 40 minutes. DVD Region Code 1 (U.S. & Canada).


---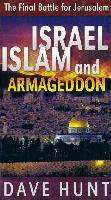 ISRAEL, ISLAM AND ARMAGEDDON - DVD

Dave Hunt, 2002



Jerusalem is mentioned an astonishing 800 times in the Bible, and prophesied to play a key role in world destiny. This video shows how the current peace process is fraught with peril, why it is impossible for Jerusalem to know true peace in our age, how the Antichrist will lead the world's armies to destroy Israel, the truth about the Vatican's intentions, and the Palestinian myth. It powerfully corrects much of "the misinformation and propaganda" aggressively advanced by the world media and others. Includes footage of the terrorist attack on the World Trade Center. 60 minutes. DVD Region Code 1 (U.S. & Canada).
---
25 MESSIANIC SIGNS - VHS & DVD

Dr. Noah Hutchings & Ken Klein, 2001


---
In the ancient ages, the Hebrew prophets predicted that before the advent of their promised Messiah, there would come specific signs that would signal the end of the age. But not until the recent return of the Jews (1948) were these prophecies taken seriously. Today those signs have become crystal clear, even to the most casual observer. From the mountains flowing with sweet wine to the wars of the Jews, to the fabled and sealed eastern gate and much more. You will hear and see it all as 25 Messianic Signs brings to you the unfolding drama of the prophetic signs that point to the unparalleled and momentous event of our time; the return of the Messiah. Join prophetic scholar Dr. Noah Hutchings and Ken Klein as they take you on a prophetic tour of the Holy Land, explaining 25 Messianic Signs that point to the return of Christ. View: Premillennial, Pre-Tribulation. Approx. 60 minutes. DVD Region Code 1 (U.S. & Canada).
---
ISRAEL, ISLAM AND BIOCHEMICAL NUCLEAR TERRORISM - DVD

Bill Schnoebelen, 2006


---
Bill gives you the very latest news on Israel and what prophecy says will come, as well as what is likely to come next--war of the confirmation of the covenant that starts the Tribulation. Bill explains how the Muslim religion creates terrorists who would kill thousands of Americans, and exposes who the god, "Allah" really is. Bill takes the fear out of these terrorist weapons by explaining how they work. He also expounds on biological and chemical weapons--how terrorists could use them against us. Learn to spot the first signs of attack, and how to protect your family. Two hours, 40 minutes. DVD Region Code 1 (U.S. & Canada).
---
TOP | HOME
Copyright 1998-2013 by Cliffside Publishing House