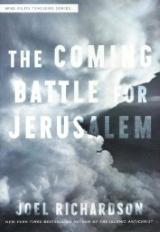 THE COMING BATTLE FOR JERUSALEM - Set of Three DVDs

Joel Richardson, 2016


$32.95
Retail $34.95
Ships within
24 hours!


New York Times bestselling author Joel Richardson tackles on of the most controversial issues raging with the church: the prophetic battle over the salvation of Israel and the Jewish people. In six dynamic teaching sessions, Richardson blows away confusion, bringing biblical clarity to these questions:
What is the Abrahamic Covenant, and how does it relate to the New Covenant?
What is replacement theology and why is it so profoundly unbiblical?
Is Jesus really going to return to restore the Kingdom of Israel?
What is life like after death? What does the Bible really say about these things?
What can we do to prepare for what is coming?
DISC ONE - THE FOUNDATION OF THE BATTLE
Session 1: The Promises of God
Session 2: When All Israel Will Be Saved
DISC TWO - THE COMING KINGDOM OF GOD
Session 3: Until I Make Your Enemies Your Footstool
Session 4: Our Anchor of Hope
DISC THREE - JESUS' SERMON ON THE END TIMES
Session 5: The Time of Jacob's Trouble
Session 6: The Judgment of the Nations
Running Time: Appox. 4 hours 45 minutes. Language: English. DVD Region Code 1 (U.S. & Canada).
---
WHAT COMES NEXT IN THE MIDDLE EAST? - DVD
3 Sessions

Joel Richardson, 2015


$19.95
Ships within
24 hours!


Join internationally recognized teacher Joel Richardson as he examines some of the most revelant biblical prophecies and demonstrates how they are unfolding right now, in our day. In this dynamic DVD, featuring three sessions, you will learn not only about the next major wars about to erupt, but also the great last days Middle Eastern revival that is already beginning to sweep the region.
Session One: Recorded on the ground, in Kurdistan, northern Iraq. In this session, Joel examines the prophecy of Daniel 8, showing how this critical chapter may hold the key to understanding the next major wars of the last days.
Session Two: In this session, Joel explores the prophecy of Isaiah 19, showing how so many aspects of this oracle are beginning to unfold right now and how it will affect you.
Session Three: Finally, Joel concludes his examination of Isaiah 19, discussing the might last days prayer movement and revival that is now sweeping Egypt and the Middle East.
Running Time: Approx. 3 hours on one DVD. DVD Region Code 1 (U.S. & Canada).
---
GOD'S LOVING SOVEREIGNTY OF ISRAEL - DVD

David Bay, 2015


$14.95
Ships within
24 hours!


God's Pattern In Dealing With Israel Revealed - From Ancient Israel To Today. Warning to all haters of Israel and the Jews: You are fighting 'Mission Impossible', fighting against Omnipotent God! Many Christians either do not understand the historical miracle of Israel's rebirth or they mistakenly believe that the Jews are no longer God's Chosen People, that the re-establishment of Israel in 1948 has no prophetic significance. Historical fact records that Israel was out of her land for 1,900 years. Israel's land was controlled by a succession of Gentile powers during that long period of time. At this point, Israel should never have been expected to gain her land back, because no people who had ever been out their land for several hundred years had ever regained it. The rebirth of Israel in 1948 was truly an historically unprecedented miracle of God, accomplished against all historic odds. God foretold in many places in both the Old and New Testaments that He would tear Israel out her land if she refused to obey His commandments but then he repeatedly turned around and promised national restoration. Running Time: 55 minutes. DVD Region Code 1 (U.S. & Canada)
---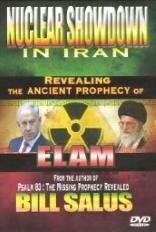 NUCLEAR SHOWDOWN IN IRAN - DVD
Revealing the Ancient Prophecy of Elam
Bill Salus, 2014


$12.95
Ships within
24 hours!


About 2,600 years ago, the Hebrew prophets Jeremiah and Ezekiel issued parallel end times prophecies concerning modern-day Iran. Ezekiel prophesied about Persia, while Jeremiah predicted the fate of Elam. Nuclear Showdown in Iran: Revealing the Ancient Prophecy of Elam, reveals Jeremiah's world changing prophecy and explains how this ancient prediction is presently poised to find fulfillment. Jeremiah declares that a disaster will occur in Elam, which is the location today of Iran's Bushehr nuclear reactor. This foretelling could be forecasting that a nuclear disaster occurs in Iran. This DVD captures some of the most important teachings within Nuclear Showdown in Iran, including a PowerPoint presentation with images, maps and other illustrations. The DVD also explores the Spiritual Showdown taking place in Iran between Christianity and Islam. Additionally, two related televised interviews are included to enhance the viewer's understanding of the ancient prophecy of Elam. DVD Region Code 1 (U.S. & Canada)
Get Nuclear Showdown in Iran in Paperback
---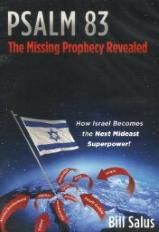 PSALM 83: THE MISSING PROPHECY REVEALED - Set of Three DVDs
How Israel Becomes the Next Mideast Superpower!

Bill Salus, 2013


$19.95
Ships within
24 hours!


This powerful 3 DVD series contains 3 of the most revelatory teachings, complete with instructional images and maps, from Bible prophecy expert, Bill Salus. These 3 DVD's are all included in one package.
Psalm 83 or Ezekiel 38, Which is the Next Middle East News Headline?
The ancient Psalm 83 prophecy has mysteriously eluded the discernment of many of today's top Bible scholars. The prophecy identifies an Arab confederacy that wants to wipe Israel off of the map. Many Bible experts are predicting that Russia, Iran, Turkey, and several other countries are about to invade Israel according to the prophecy in Ezekiel 38, but Bill Salus displays the multiple reasons why Psalm 83 could be the next Mideast news headline!
The Future for America in Bible Prophecy
In this timely teaching video, Bill Salus tackles the tough questions such as: Is America in the Bible? Why was the United States a blessed superpower? Has America abandoned its Judeo-Christian heritage? Is America being judged? What is America's future? This analyzes all of the arguments and explains why Bill believes America can be found in Bible prophecy.
The Roots of the Mideast Conflict
The present hostilities experienced in the Middle East between the Arabs and Jews can be traced to a disposition of hatred, originating almost four thousand years ago. In this teaching video, Bill Salus explains how the ancient family feuds between the Middle East patriarchs and matriarchs are the underlying roots of today's Arab-Israeli conflict. Find out what nations were formed from their loins and why their descendants still covet the rich content of father Abraham's unconditional covenant.
Set of three DVDs. Running Time: 180 minutes. DVD Region Code 1 (U.S. & Canada)
---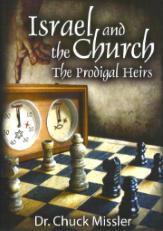 ISRAEL AND THE CHURCH - DVD
The Prodigal Heirs

Dr. Chuck Missler, 2012


$19.95
Ships within
24 hours!


Has God abandoned Israel?
Has the Church "replaced" Israel?
What does the Bible say?
As we watch the world events, it is clear that Israel is following her prophetic scenario, and a new chapter is about to be written--and there may be a big surprise on our near horizon! Join Dr. Chuck Missler in New Zealand as he explores the origin, history and destiny of both Israel and the church through a Biblical lens. Runtime: 120 minutes. DVD Region Code 0 (Worldwide)
---
ISRAEL UNDER FIRE - DVD
The Prophetic Chain of Events That Threatens the Middle East

John Ankerberg & Jimmy DeYoung, 2009


$19.95
Ships within
24 hours!


In 120 eye-opening minutes, apologist John Ankerberg and journalist Jimmy DeYoung document many signs that point—right now—toward apocalyptic conflict in the Middle East, including explosive issues such as
preparations for rebuilding the Jewish temple on one of Islam's holiest place
external and internal threats to Israel from Palestinian Arabs
Iran's nuclear capability and intention to "wipe Israel off the map"
Adding to the visual impact is incisive Q-and-A footage with figures such as Israeli politicians Benjamin Netanyahu and Moshe Arens and Palestinian Authority spokesman Adnan Husseini. Conversations with numerous rabbis, religious leaders, and other guests round out some of the most exclusive video available on current Middle East spiritual–political issues. The Israel Under Fire DVD offers viewers unmatched insight into the events now being generated by peoples, alliances, and religions—events that will unavoidably involve North Americans and the other billions of the globe. Approximately 120 minutes total running time. DVD Region Code 1 (U.S. & Canada).
Also, get the book version of Israel Under Fire
---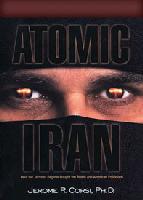 ATOMIC IRAN - DVD

Jerome R. Corsi, Ph.D., 2006


$25.00
Ships within
24 hours!


Dr. Jerome Corsi earned his Ph.D from Harvard in 1972 and is an expert on political violence and terrorism. He was recently invited to speak before the Israeli Knesset. Dr. Corsi has also written 15 books, including No. 1 New York Times bestseller Unfit for Command: Swift Boat Veterans Speak Out against John Kerry, as the co-author. Previously, he received a top secret clearance from the Agency for International Development, where he assisted in providing anti-terrorism training to the U.S. Embassy. Today, Dr. Corsi says Iran is on a fast track to complete construction of its first atomic bomb and will not hesitate to use it. He says Iran, a charter member of the "axis of evil," is on a collision course with America. The president of Iran, which controls 40 percent of the world's oil supply, has proclaimed that a mullah (Islamic Messiah) will return to destroy the infidels (non-Muslims) and usher in an Islamic global government. Dr. Corsi now uncovers the true intentions and practices of the Iranian regime. Two hours, 40 minutes. DVD Region Code 1 (U.S. & Canada).


---
ISRAEL IN PROPHECY - Set of Two DVDs

Steve Wohlberg, 2007


Sale $22.50
Retail $29.95
Ships within
24 hours!


Have important Bible truths been "Left Behind?" In this presentation you will discover the New Testament distinction between "Israel after the flesh" (1 Corinthians 10:18) and "the Israel of God" (Galatians 6:14-16) centered in Jesus Christ. You will also gain vital insights into what the Book of Revelation really says about Mount Zion, the New Jerusalem, the Heavenly Temple, Babylon the Great and Armageddon. This timely resource has been a blessing to thousands around the world, and will prove to be a blessing to you! Set of Two DVDs. Full Screen. Region Code: 1.


---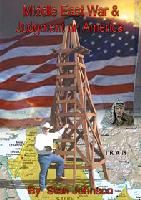 MIDDLE EAST WAR & JUDGMENT ON AMERICA - DVD

Stan Johnson, 2005


$27.95
Retail $30.00
Ships within
24 hours!


If you want to know the future of America and the Middle East, this is the DVD you must see! In this must-have resource, Stan Johnson explains his wife Leslie's dream "Arafat in the Hospital," which presents the signposts to watch for leading up to World War III. Arafat will go into the hospital (fulfilled); oil will be discovered in Israel; the Palestinians will be given a state; and then comes World War III. After this comes judgment on America! Stan also gives you Scripture references to confirm this warning. Don't wait another moment before requesting your copy of Middle East War & Judgment on America! Two hours, 40 minutes. DVD Region Code 1 (U.S. & Canada).


---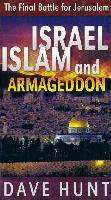 ISRAEL, ISLAM AND ARMAGEDDON - DVD

Dave Hunt, 2002


$21.95
Ships within
24 hours!


Jerusalem is mentioned an astonishing 800 times in the Bible, and prophesied to play a key role in world destiny. This video shows how the current peace process is fraught with peril, why it is impossible for Jerusalem to know true peace in our age, how the Antichrist will lead the world's armies to destroy Israel, the truth about the Vatican's intentions, and the Palestinian myth. It powerfully corrects much of "the misinformation and propaganda" aggressively advanced by the world media and others. Includes footage of the terrorist attack on the World Trade Center. 60 minutes. DVD Region Code 1 (U.S. & Canada).
---
25 MESSIANIC SIGNS - VHS

Dr. Noah Hutchings & Ken Klein, 2001


$24.95
VHS Video
Ships within
24 hours!


In the ancient ages, the Hebrew prophets predicted that before the advent of their promised Messiah, there would come specific signs that would signal the end of the age. But not until the recent return of the Jews (1948) were these prophecies taken seriously. Today those signs have become crystal clear, even to the most casual observer. From the mountains flowing with sweet wine to the wars of the Jews, to the fabled and sealed eastern gate and much more. You will hear and see it all as 25 Messianic Signs brings to you the unfolding drama of the prophetic signs that point to the unparalleled and momentous event of our time; the return of the Messiah. Join prophetic scholar Dr. Noah Hutchings and Ken Klein as they take you on a prophetic tour of the Holy Land, explaining 25 Messianic Signs that point to the return of Christ. View: Premillennial, Pre-Tribulation. Approx. 60 minutes on VHS Video.
---
ISRAEL, ISLAM AND BIOCHEMICAL NUCLEAR TERRORISM - DVD

Bill Schnoebelen, 2006


$12.50
VHS Retail $24.95
Save: $12.45 (50%)
Ships within
24 hours!


---
$30.00
DVD Version
Ships within
24 hours!


Bill gives you the very latest news on Israel and what prophecy says will come, as well as what is likely to come next--war of the confirmation of the covenant that starts the Tribulation. Bill explains how the Muslim religion creates terrorists who would kill thousands of Americans, and exposes who the god, "Allah" really is. Bill takes the fear out of these terrorist weapons by explaining how they work. He also expounds on biological and chemical weapons--how terrorists could use them against us. Learn to spot the first signs of attack, and how to protect your family. Two hours, 40 minutes. DVD Region Code 1 (U.S. & Canada).
---
TOP | HOME
Copyright 1998-2017 by Cliffside Publishing House