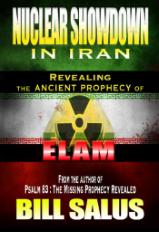 NUCLEAR SHOWDOWN IN IRAN
Revealing the Ancient Prophecy of Elam

Bill Salus, 2014


$14.95
Ships within
24 hours!


Missiles cloud Mideast skies over the Persian Gulf. Iran shuts down the Strait of Hormuz. Arab oil is choked off to world markets. Hezbollah and Hamas launch scores of missiles into Israel. Terror cells initiate cycles of violence in America. Global economies begin to collapse.Radioactivity permeates the skies over Bushehrís nuclear reactor. Countless Iranianís hastily seek refuge into neighboring nations. The Arabian Gulf becomes a cesspool of contamination. Desalinization plants canít process the polluted waters. A humanitarian crisis burgeons out of control. A disaster of epic biblical proportion has finally arrived in the Middle East!
About 2600 years ago the Hebrew prophets Jeremiah and Ezekiel issued parallel end times prophecies concerning modern-day Iran. Today the rogue country is becoming a nuclear nation and aggressively advancing its hegemony throughout the greater Middle East. Nuclear Showdown in Iran, The Ancient Prophecy of Elam is a non-fiction thriller taking the reader on a journey of discovery through the eyes of the prophets and the minds of todayís key national players.Can anything good come from the evil that is about to befall us? The ancient prophecy of Elam will reveal what God has ordained, what the prophets saw and what you need to know and do now.
Get Nuclear Showdown in Iran on DVD

---
TABLE OF CONTENTS (Abridged)
Acknowledgements
Introduction
Introducing the Ancient Prophecy of Elam (Jeremiah 49:34-39)
Introducing Ezekiel's Prophecy Concerning Persia (Ezekiel 38, the Gog of Magog Invasion)
Revealing the Ancient Prophecy (Part 1) (Jeremiah 49:34-36)
Revealing the Ancient Prophecy (Part 2) (Jeremiah 49:37)
Revealing the Ancient Prophecy (Part 3) (Jeremiah 49:38)
Revealing the Ancient Prophecy (Part 4) (Jeremiah 49:39)
Does the Prophecy of Elam Await Fulfillment? (Part 1)
Does the Prophecy of Elam Await Fulfillment? (Part 2)
Does the Prophecy of Elam Await Fulfillment? (Part 3)
Iran: A Past Friend but Present Foe of Israel
Psalm 83 or Ezekiel 38; what's Next?
Overview of the Ezekiel 38-39 Prophecy
Are Jeremiah 49 and Ezekiel 38 the Same Prophetic Events?
Is the Ancient Prophecy of Elam a Pre-Tribulation Event?
Supernatural Showdown - Supernatural Events Lead Iranians to Christ
Appendices
Appendix 1: The Text of Psalm 83 and Ezekiel 38:1-39:20
Appendix 2: Iran's Other Nuclear Nightmare
Appendix 3: The Sinner's Salvation Prayer
Appendix 4: Is the Church identified in Psalm 83?
Appendix 5: The Treasured Ones of Psalm 83

---
AUTHOR PROFILE
Bill Salus is a radio host, conference speaker, and the bestselling author of Psalm 83: The Missing Prophecy Revealed, How Israel Becomes the Next Mideast Superpower. Bill's ability to interpret the ancient biblical prophecies has earned him the respect of today's top eschatologists.

---
BOOK SPECIFICATIONS
226 pages, paperback, appendices.
ISBN 9780988726048