Home
About Us
FAQ
Privacy Policy
Contact Us
Books
DVDs
VHS
Charts
Audio Books
General Information
Secure Order Form
Mail & Fax Orders
Shipping Rates

Mastercard
Visa, Discover
* * *
Phone Toll Free:
1-877-577-8743
within U.S.A.
* * *
International
1-336-246-2663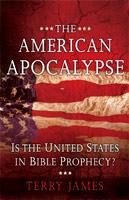 THE AMERICAN APOCALYPSE
Is the United States in Bible Prophecy?

Terry James, 2009



Does America-the most powerful nation on Earth-appear in Bible prophecy? Some people believe the United States will be wiped out in a nuclear attack. Others say it's where the Antichrist will rise. And many people wonder what life will be like in America during the seven-year Tribulation. But what can we know for sure? And what events are setting the stage for the last days, not only in America but globally? Terry James, who has spoken and written extensively on Bible prophecy, addresses these issues and more as he examines the pivotal role America will play:
The irreversible move toward one world government
The rise in world spirituality yet hatred toward true Christianity
The danger signs in America's faltering economic system
The new world superpower on the horizon
The peace that will lead to the world's greatest war
---
TABLE OF CONTENTS
Foreword
Setting the Stage
Section I: Prophecy Takes Shape

The Explosion
The Discipline-Blessing-Discipline Roller Coaster
The Israel-America Miracle
Soaring Superprowess

Section II: End-times Illness

Societal Symptoms
Geopolitical Palsy
Economic Epilepsy
Religious Fever
Probing the Prognosis

Section III: Future Headlines?

International Community Demands Role in Iraq
Globalists Seek Economic Control
Peace Puzzle Coming Together
Religious Leaders Propose World Unity
World Stunned as Millions Vanish!
United States Pursues Place Within Changed International Order
Are You Prepared?
Notes

---
AUTHOR PROFILE
Terry James is the general editor and author of multiple books on Bible prophecy and is a popular speaker on the end times. He is a member of the Pre-Trib Research Center, cofounded by Dr. Tim LaHaye, and is a partner in raptureready.com, one of the most visited Bible prophecy Web sites.

---
BOOK SPECIFICATIONS
292 pages, paper.
ISBN 9780736925051