Home
About Us
FAQ
Privacy Policy
Contact Us
Books
DVDs
VHS
Charts
Audio Books
General Information
Secure Order Form
Mail & Fax Orders
Shipping Rates

Mastercard
Visa, Discover
* * *
Phone Toll Free:
1-877-577-8743
within U.S.A.
* * *
International
1-336-246-2663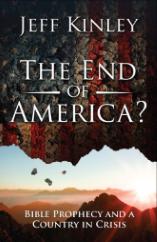 THE END OF AMERICA?
Bible Prophecy and a Country in Crisis

Jeff Kinley, 2017


$13.95
Retail $14.99
Ships within
24 hours!


Will God's Wrath Fall on America? What happens when a country glories in its immorality, turning away from faith in God and obedience to His commands? Jeff Kinley, author of As It Was in the Days of Noah, explores historical and biblical precedents for the demise of a nation and addresses pressing questions such as…How did we get to this point?Is America in Bible prophecy?Will Christians face widespread persecution here?What effect will the rapture have on America?How should I respond to the moral decline? This forthright survey of current events and trends offers valuable perspective on the future of America—as well as powerful motivation to embrace the only source of lasting hope.

---
CONTENTS
Introduction
Is America Really in Decline?--Says who? What's gone wrong with our country?
How Firm a Foundation--Examining America's Christian roots
Lessons from an Ancient People--What is God's relationship to Gentile nations?
The Road to Abandonment--Romans 1 and Abandonment Wrath revealed
America's Holocaust--Abortion and our national shame
Gog, Magog, and 'Merica--Is America mentioned in prophecy?
The Coming Persecution--A sneak preview into what lies ahead for believers
When the Levee Breaks--The Rapture brings both deliverance and divine judgment
How Close Are We?--Signs, seasons, and a sense of where we are, prophetically
A Time for Christians to Rise--Is there any hope? What are Christians to do now?
Notes

---
AUTHOR PROFILE
Jeff Kinley (ThM, Dallas Theological Seminary) empowers people with vintage truth. Jeff is the author of more than 25 books, including As It Was in the Days of Noah and Wake the Bride, and he speaks all over the country. He and his wife live in Arkansas and have three grown sons. See jeffkinley.com for more information about his ministry.

---
BOOK SPECIFICATIONS
256 pages, paperback.
ISBN 9780736971157