Home
About Us
FAQ
Privacy Policy
Contact Us
Books
DVDs
VHS
Charts
Audio Books
General Information
Secure Order Form
Mail & Fax Orders
Shipping Rates

Mastercard
Visa, Discover
* * *
Phone Toll Free:
1-877-577-8743
within U.S.A.
* * *
International
1-336-246-2663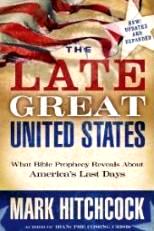 THE LATE GREAT UNITED STATES - Updated and Expanded!
What Bible Prophecy Reveals About America's Last Days

Mark Hitchcock, 2009, 2010



Every day brings more news of a world that seems to teeter on a disastrous precipice: Wars of genocide; Massive earthquakes and typhoons; The rising cost of foreign oil; Terrorist bombings; Economic disasters and lost security; Crushing federal debt; Famine and worldwide hunger; A tidal wave of illegal immigrants.

How many of these events and crises are signs of the "end times"? And what will become of the United States? Will America continue to slip as today's lone world superpower, and will it even exist when the sounds of warfare rumble at the Battle of Armageddon? Clearly explaining the end time prophecies of Scripture, Mark Hitchcock shows that today's geopolitical situation corresponds remarkably to what the Bible predicted thousands of years ago. Prophecies previously dismissed as unbelievable now read like news headlines.

---
TABLE OF CONTENTS
The Question Everyone's Asking
Is America Mentioned in Prophecy?
The Late Once-Great United States
Oil: America's Achilles Heel
Are We Headed for an Economic "Perfect Storm"?
Our Worst Nightmare: Islamic Terror and a Nuclear 9/11
When God Abandons a Nation
The Rapture: The End of America as We Know It
America: From Superhero to Sidekick
Our Role in God's Foreign and Domestic Policies
No Fear of the Storm
Appendix A--Some Questions You Might Be Asking
Appendix B--Come Learn from My Mentors
Frequently Asked Questions
Notes

---
AUTHOR PROFILE
Mark Hitchcock, PhD, an authority on Bible prophecy, has written fifteen books on the topic, including Iran: The Coming Crisis. A law school graduate, Mark was called to the ministry in the 1980s. After graduation from seminary, he became pastor of Faith Bible Church in Edmond, Oklahoma, where he still serves. Mark lectures frequently on prophecy themes and has appeared on MSNBC, Fox News, and CNN. Mark and his wife, Cheryl, have two sons, Justin and Samuel.

---
BOOK SPECIFICATIONS
193 pages, paperback.
ISBN 9781601421418