Home
About Us
FAQ
Privacy Policy
Contact Us
Books
DVDs
VHS
Charts
Audio Books
General Information
Secure Order Form
Mail & Fax Orders
Shipping Rates

Mastercard
Visa, Discover
* * *
Phone Toll Free:
1-877-577-8743
within U.S.A.
* * *
International
1-336-246-2663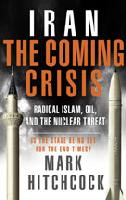 IRAN: THE COMING CRISIS
Radical Islam, Oil, and the Nuclear Threat

Mark Hitchcock, 2006



The events wracking the Middle East today are confusing to even the most avid news buff. Now all the answers to your questions are offered in just one resource. Divided into five main sections, Iran: The Coming Crisis contains the most up-to-date, thorough information available and is complete with maps, charts, and timelines for visual assistance. Iranís past, present, and future are exposed-the countryís quest for nuclear weapons and support of Palestinian terror groups, its ability to ďplay the oil card,Ē and Iranian president Mahmoud Ahmadinejadís apocalyptic beliefs that motivate his actions. Youíll discover the truth about todayís events, how they relate to Bible prophecy, and what the Bible clearly describes is yet to come. Itís a crisis unlike any the world has ever faced.

---
TABLE OF CONTENTS
Introduction
The Gathering Nuclear Storm

PART ONE: IRAN'S PAST--THE PERSIA PROPHECIES

History's Silver Kingdom
Visions of Past Greatness

PART TWO: IRAN'S PRESENT--SHADOWS OF COMING EVENTS

The Mother of Modern Terror
Iran's President: The Nuclear Prophet
Facing a Nuclear Iran
The Iranian-Russian Connection
Oil: Iran's X-Factor
How Long Will the U.S. and Israel Wait?

PART THREE: IRAN'S FUTURE--THE FINAL JIHAD

Will America Survive?
Europe's Bid for World Peace
Radical Islam's War with the West
Russia, Iran, and the Coming Invasion of Israel
When Will Iran Invade Israel?
What's Next?
A Proposed Chronology of the End Times
Notes

---
AUTHOR PROFILE
Mark Hitchcock earned his PhD from Dallas Theological Seminary in 2006 and has served as pastor of Faith Bible Church in Edmond, Oklahoma for fifteen years. He has written fourteen books related to end times Bible prophecy, and served as contributing editor for the Left Behind Prophecy Club for three years. Mark and his wife, Cheryl, live in Edmond with their two sons, Justin and Samuel.

---
BOOK SPECIFICATIONS
214 pages, paper.
ISBN 159052764X