Home
About Us
FAQ
Privacy Policy
Contact Us
Books
DVDs
VHS
Charts
Audio Books
General Information
Secure Order Form
Mail & Fax Orders
Shipping Rates

Mastercard
Visa, Discover
* * *
Phone Toll Free:
1-877-577-8743
within U.S.A.
* * *
International
1-336-246-2663
International Customers - click here for important information on VHS & DVD compatability before ordering.
ANTICHRIST REVEALED - DVD

Jerry Johnson, 2009


$15.95
Ships within
24 hours!


Most dispensational authors ignore the failed, man-made predictions of the past and continue to believe that Antichrist will soon appear on the world stage. Join Jerry Johnson, President of Apologetics Group & The Nicene Council as he explains why most self-proclaimed prophecy experts totally overlook the Apostle John's direct statements of who, what and when antichrist is. If you have been following the dispensationalist arguments you may find this surprising: the least helpful verses for developing the doctrine of Antichrist are the only ones that expressly use the word "Antichrist"! Something is wrong here. And this DVD pinpoints the problem. Contemporary Antichrist thinking may be exciting, but it is not biblical. Watch this clear and compelling presentation and learn why. Running Time Approx. 50 minutes. DVD Region Code 0.
---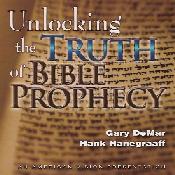 UNLOCKING THE TRUTH OF BIBLE PROPHECY
Set of Six Audio CDs

Gary DeMar & Hank Hanegraaff, 2007


$44.95
Retail $49.95
Ships within
24 hours!


Two leading experts on Bible prophecy--Gary DeMar, president of American Vision and Hank Hanegraaff, host of the national daily radio show The Bible Answer Man--explore the controversial topic of eschatology, the study of "last things." This unique event, hosted by American Vision, was held at the beautiful Opryland Hotel and Convention Center in Nashville, Tennessee. Gary and Hank each gave two workshops prior to the main event, the Question and Answer session, where both men fielded challenging questions from the audience. Workshop topics include: Putting Prophecy in Perspective by DeMar; The Hermenueutics of Eschatology Part I by Hanegraaff; The Battle of Gog and Magog - Future or Fulfilled? by DeMar; The Hermeneutics of Eschatology Part II by Hanegraaff. Set of Six Audio CDs - Running Time: Approximately 300 minutes.
---
TOP | HOME
Copyright 1998-2017 by Cliffside Publishing House