Home
About Us
FAQ
Privacy Policy
Contact Us
Books
DVDs
VHS
Charts
Audio Books
General Information
Secure Order Form
Mail & Fax Orders
Shipping Rates

Mastercard
Visa, Discover
* * *
Phone Toll Free:
1-877-577-8743
within U.S.A.
* * *
International
1-336-246-2663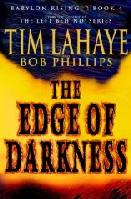 THE EDGE OF DARKNESS
Babylon Rising Series #4

Tim LaHaye & Bob Phillips, 2006


$14.95
Paperback
Ships within
24 hours!


This time Michael Murphy sets off in search of the Lost Temple of Dagon and the dark secrets of the strange god once worshipped by the ancient Philistines. His quest will lead to a final confrontation with an old enemy and uncover one of the Bible's most feared warnings--a prophecy of false miracles, false messiahs, and ultimate evil that will be fulfilled in our time... and that not even Murphy can stop once it's begun. 355 pages, paper.
---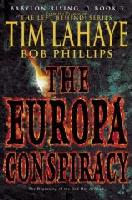 THE EUROPA CONSPIRACY
Babylon Rising Series #3

Tim LaHaye & Bob Phillips, 2005


$14.95
Paperback
Ships within
24 hours!


The awe-inspiring revelations never let up as Michael Murphy heads to the ancient city of Babylon in pursuit of one of the most famous and mystifying of Biblical prohpecies: The Handwriting on the Wall. But the closer he gets to deciphering the true meaning of Daniel's ancient message for our troubled times, the closer Murphy comes to a shattering confrontation with an opponent he knows only too well-and the shadowy forces of a darkness that will cause the earth itself to tremble. 354 pages, paper.
---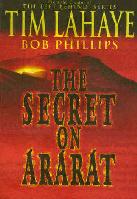 THE SECRET ON ARARAT
Babylon Rising Series #2

Tim LaHaye & Bob Phillips, 2004


$13.95
Paperback
Ships within
24 hours!


---
$21.95
Hardback
Ships within
24 hours!


As The Secret on Ararat opens, Murphy is in pursuit of one of the most mysterious and sought-after biblical artifacts: Noah's Ark. As he makes a death-defying quest to ascend Mount Ararat--the legendary resting place of the ark--Murphy soon discovers dramatic revelations to biblical prophecies and is drawn even closer to the most terrifying evil about to be unleashed on all mankind. 384 pages.
---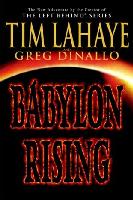 BABYLON RISING
Babylon Rising Series #1

Tim LaHaye & Greg Dinallo, 2003


$14.95
Paperback
Ships within
24 hours!


Tim LaHaye, co-author of the bestselling Left Behind Series, has created a new series that begins with Babylon Rising. The novels in this new series are even faster-paced thrillers based on prophecies that are not covered in the Left Behind books and that have great relevance to the events of today.
Renowned field archaeologist Michael Murphy is far from a tweedy scholar living in an ivory tower. A born adventurer, he fearlessly hunts down and authenticates ancient biblical artifacts. When he makes the discovery of his career, a biblical prophecy is revealed---and he must confront the most terrifying evil the world has known. 398 pages.
---
TOP | HOME
Copyright 2004-2016 by Cliffside Publishing House