Home
About Us
FAQ
Privacy Policy
Contact Us
Books
DVDs
VHS
Charts
Audio Books
General Information
Secure Order Form
Mail & Fax Orders
Shipping Rates

Mastercard
Visa, Discover
* * *
Phone Toll Free:
1-877-577-8743
within U.S.A.
* * *
International
1-336-246-2663
LEFT BEHIND DVD COLLECTION
All three movies plus documentary on DVD

Cloud Ten Pictures, 2008



Follow the terrifyingly suspenseful adventures of the last days with these blockbuster movies. Starring Kirk Cameron. Includes:
Left Behind: The Movie
Left Behind II: Tribulation Force
Left Behind III: World at War
Left Behind Documentary - The Original Left Behind
Each movie is approximately 95 minutes plus documentary. Closed-captioned. Rated PG-13 for violence. DVD Region Code 1 (U.S. & Canada).
---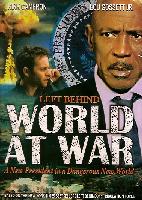 LEFT BEHIND III: World at War - DVD

Cloud Ten Pictures, 2005



It's been 18 months since Nicolae Carpathia's rise to power. The treaty with Israel has been signed, leading to the beginning of the tribulation. Meanwhile, the Tribulation Force is growing. Soon the lives of President Fitzhugh & the Tribulation Force will be connected in ways they can't imagine. Starring Louis Gossett, Jr. Rated PG-13. 95 minutes. DVD features: English Language; Subtitles in English, French, Spanish; Widescreen; Closed Captioned; DVD Region Code 1 (U.S. & Canada).


---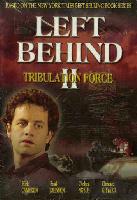 LEFT BEHIND II: TRIBULATION FORCE The Movie

Cloud Ten Pictures, 2002


---
The much-anticipated sequel to Left Behind: The Movie features multiple storylines focusing on consolidation of power by Nicolae Carpathia as well as the budding romance between Buck Williams and Chloe Steele. Starring: Kirk Cameron, Brad Johnson, Janaya Stephens, Chelsea Noble, and Clarence Gilyard.
A week after the rapture, grief-stricken survivors continue to search for the millions of people who vanished into thin air. Chaos engulfs the world as suicide rates skyrocket, businesses are looted, and martial law remains in effect. A desperate world turns to United Nations President Nicolae Carpathia for guidance and reassurance. But as global events begin to take on strange significance, signalling the oncoming terror of years to come, a small group of rebels known as the Tribulation Force embarks on a dangerous mission to open the eyes of the world to the truth--Nicolae Capathia is the Antichrist! Closed Captioned. DVD Region Code 1 (U.S. & Canada).


---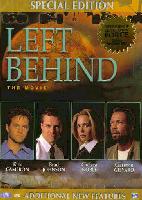 LEFT BEHIND: THE MOVIE
VHS or DVD

Cloud Ten Pictures, 2000


---
What everybody's been waiting for! The biggest Christian fiction series of all time is now a major motion picture, with Kirk Cameron in the lead as TV reporter Buck Williams. See the end-times action unfold as Buck and the other post-rapture believers confront the evil schemes of Nicolae Carpathia. The unexpected ending will blow you away! Closed Captioned. DVD includes Optional Spanish Language. DVD Region Code 1 (U.S. & Canada).


---
TOP | HOME
Copyright 1998-2014 by Cliffside Publishing House