Home
About Us
FAQ
Privacy Policy
Contact Us
Books
DVDs
VHS
Charts
Audio Books
General Information
Secure Order Form
Mail & Fax Orders
Shipping Rates

Mastercard
Visa, Discover
* * *
Phone Toll Free:
1-877-577-8743
within U.S.A.
* * *
International
1-336-246-2663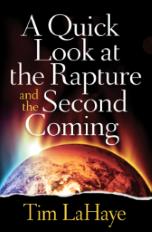 A QUICK LOOK AT THE RAPTURE AND THE SECOND COMING

Tim LaHaye, 2013



What is the rapture? When is the second coming? Why is there so much talk about Bible prophecy, and what is it all about? There's no better place to go for clear, specific answers than to God's Word, which is what Bible prophecy expert Tim LaHaye does in this Quick Look guide to the last days. This book, based on decades of careful research, presents a concise picture of the end times. You'll learn about the two most important events to take place in the future—the rapture and second coming—and along the way, discover answers to questions such as…
Will Christ's return be literal, or is it merely symbolic?
What signs of the last days can we expect to see in the days ahead?
How can you be ready for these events?
---
TABLE OF CONTENTS
The Growing Interest in Bible Prophecy
Jesus Promised to Come Again to Rapture His Church
What and When Is the Rapture?
Setting the Stage for His Coming and the Signs of His Coming
The Two Stages of the One Second Coming
The Judgment Seat of Christ
The Coming Seven-Year Tribulation
The Glorious Appearing, or the Coming of the King
Israel--the Super Sign of Christ's Coming
The Only Way to Heaven
Quick Answers to Questions About Bible Prophecy
Notes

---
AUTHOR PROFILE
Tim LaHaye, who conceived the Left Behind® series, is a renowned prophecy scholar, minister, and educator. His 40 nonfiction works have sold more than 11 million copies. He and his wife, Beverly, live in Southern California.

---
BOOK SPECIFICATIONS
59 pages, paperback.
ISBN 9780736958707