Home
About Us
FAQ
Privacy Policy
Contact Us
Books
DVDs
VHS
Charts
Audio Books
General Information
Secure Order Form
Mail & Fax Orders
Shipping Rates

Mastercard
Visa, Discover
* * *
Phone Toll Free:
1-877-577-8743
within U.S.A.
* * *
International
1-336-246-2663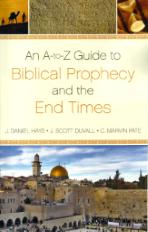 AN A-TO-Z GUIDE TO BIBLICAL PROPHECY AND THE END TIMES

J. Daniel Hays, J. Scott Duvall, C. Marvin Pate, 2012



Exhaustive yet accessible, An A-to-Z Guide to Biblical Prophecy and the End Times contains hundreds of articles, beginning with "Abomination of Desolation" and ending with "Zionism." It strives for a balanced presentation by laying out differing viewpoints on issues where Christians disagree. 512 pages, paperback, Scripture index.

Authors of over twenty-five books, J. Daniel Hayes, J. Scott Duvall, and C. Marvin Pate are professors at Ouachita Baptist University, where they specialize, respectively, in Old Testament, New Testament, and Theology.
---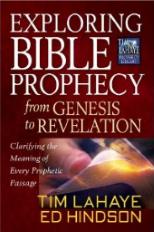 EXPLORING BIBLE PROPHECY FROM GENESIS TO REVELATION

Tim LaHaye & Ed Hindson, 2006



Formerly titled The Popular Bible Prophecy Commentary

Here is an indispensable, all-in-one resource on the prophecies of the Bible! Itís all hereóclear and concise explanations for the key Bible prophecies from Genesis to Revelation. Written by Bible scholars but created for everyday readers and Bible students, this volume makes it possible for users to expand their knowledge of prophecy in ways unmatched by other books. Among the notable features areÖ
More than 500 easy-to-read pages of explanatory comments about the prophecies in Godís Word
Useful charts, diagrams, and time lines
Simple format for easy referencing
Helpful word definitions
Special attention to Bible passages that are particularly difficult or important
Assembled by bestselling prophecy teachers Tim LaHaye and Ed Hindson, along with a team of highly qualified contributors, this is a must-have for every Christian library. 557 pages, paperback, bibliography, chart index, topical index.
More Information, Table of Contents, Editor Profiles
More Books by Tim LaHaye
---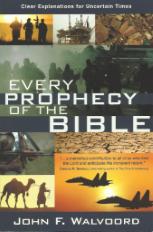 EVERY PROPHECY OF THE BIBLE
Clear Explanations for Uncertain Times

John F. Walvoord, 1990, 2011



As we watch world events unfold, biblical prophecy becomes a subject of intense interest. Every Prophecy of the Bible brings clear answers to more than one thousand key prophecies, backed with solid scriptural evidence. Noted biblical scholar Dr. John F. Walvoord covers each prophecy from Genesis to Revelation, giving detailed insight into the many prophecies that have been fulfilled, as well as those that are still to come. By placing each event into historical contest, the author gives amazing, divine design. An excellent reference guide for those seeking answers, this comprehsive book reassures readers that God's master plan is to be trusted and the Bible is an accurate source of hope for all Christians. 668 pages, paperback, topical index, scripture index.

More Information, Table of Contents, Author Profile
More Books by John Walvoord
---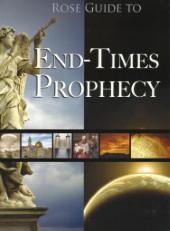 ROSE GUIDE TO END-TIMES PROPHECY

Timothy Paul Jones, PhD, 2011



The Rose Guide to End-Times Prophecy is an easy-to-understand overview of Bible prophecies about the end times. It explains the teachings in the Bible about the end times, views of Christians through the centuries, and a careful and fair analysis of the different ways that Christians today interpret end-times prophecies. Simple charts, illustrations, pictures, and maps help you see the whole picture. 363 pages, paperback, index.

More Information, Table of Contents, Author Profile
---
THE POPULAR DICTIONARY OF BIBLE PROPHECY
More than 350 Terms and Concepts Defined

Ron Rhodes, 2010



This wonderfully easy-to-use tool explains every prophetic term in the Bible clearly and concisely. Definitions are arranged from A to Z so readers can quickly and easily find any word or phrase that is important for understanding Bible prophecy. Many entries include relevant Bible verses as well as helpful insights from the original languages (Hebrew or Greek) and from archaeology and history. Readers will discover how terms work together to build a systematic end-times theology. Where various interpretations are possible, a generous explanation of the different viewpoints is followed by the authorís reasons for holding his view. 340 pages, paperback.

More Information, Author Profile
---
DICTIONARY OF BIBLICAL PROPHECY AND END TIMES

J. Daniel Hays, J. Scott Duvall and C. Marvin Pate, 2007



The Dictionary of Biblical Prophecy is a comprehensive reference tool designed to assist everyday people in understanding biblical prophecy. Based on solid scholarship, the dictionary contains clear and readable entries on a broad sweep of topics relevant to biblical prophecy, providing insight to complicated subjects in a balanced fashion. 512 pages, hardcover, Scripture index.

More Information, Table of Contents, Author Profiles.
---
THE POPULAR ENCYCLOPEDIA OF BIBLE PROPHECY: Over 140 Topics from the World's Foremost Prophecy Experts

Tim LaHaye & Ed Hindson, 2004



Bestselling prophecy teachers Tim Lahaye and Ed Hindson, along with managing editor Wayne A. Brindle, have brought together an outstanding team of more than 40 premillennial prophecy and theology experts to produce this easy-to-use encyclopedia brimming with more than 400 pages of fascinating facts, information, and charts about the last days. Includes:
the meaning of words and phrases such as Armageddon, premillennial, and the kingdom of heaven.
the key players in the last days, such as the Antichrist, the two witnesses, and the False Prophet.
the pivotal events of the end times, such as the rapture, the abomination of desolation, and the glorious appearing.
the time line of God's still-unfolding plan for the ages, from today all the way to eternity.
414 pages, hardcover.
---
BIBLE PROPHECIES: Faith, History & Hope

American Bible Society, 2009


$12.50
Retail $24.95
Save $12.45 (50%)
Ships within
24 hours!


Who were the prophets of the Bible and what were their prophecies? This book explores these intriguing people, their messages, and the influence they still exert on our lives today. Though some of these prophecies found their fulfillment in the fates of ancient nations and in the life of Jesus, others seem to relate to events still to come. Even today, people often look to the words of Daniel, Amos, Zechariah and other biblical voices to help them understand the world around them. 127 pages, hardcover, illustrated.
More Information, Table of Contents
---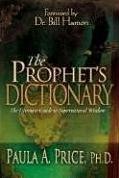 THE PROPHET'S DICTIONARY: The Ultimate Guide to Supernatural Wisdom - Revised Edition

Paula A. Price, Ph.D., 1999, 2002, 2006



An essential tool for laymen, prophets, prophesiers, pastors, intercessors, and dreamers of dreams. As an all-in-one dictionary and reference book containing over 1,600 revelant definitions of terms and phrases for the prophetic realm of Christian ministry, it will show you how to:
Experience the power of the gifts of prophecy
Understand their operation in our modern time
Correctly interpret and apply God's prophetic words
Distinguish between true and false prophets
Differentiate between spiritual and natural dreams
602 pages, paper.
More Information, Table of Contents, Author Profile
Also Available in Spanish
---
THINGS TO COME
J. Dwight Pentecost, 1991



A massive work in which the author has synthesized the whole field of prophecy into a unified biblical doctrine, a systematic and complete biblical eschatology.


633 pages, hardback, bibliography, index


---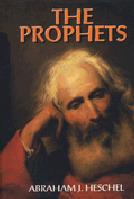 THE PROPHETS
Abraham J. Heschel, 1962



Heschel's classic works on the major Old Testament prophets together in one volume. Heschel seeks to understand the major prophets of the seventh and eighth centuries B.C.E. through an analysis and description of their individual consciousnesses. Consciousness means, for Heschel, "the perception of particular moments of inspiration," and "the totality of impressions, thoughts, and feelings which make up prophet's being." Offers a profile and synopsis of the lives and messages of Isaiah, Jeremiah, Hosea, Micah, Habakkuk, and Amos. An independent, Jewish look at the prophets which shaped the faith of Israel. 287 pages, hardback, appendix, index.


---
THE WORKS OF JOSEPHUS
Complete and Unabridged

William Whiston, Translator, 1987



Josephus's writings on ancient Jewish thought, background, and history are now more accessible than ever! The entire text is set in easy-to-read type, and the Loeb referencing system is added to help you locate passages mentioned in other reference works. Also includes expanded indexes, Arabic numbers, and the text and notes of Whiston's 4-volume study on Josephus. 926 pages, hardcover, index.
---
TOP | HOME
Copyright 1996-2016 by Cliffside Publishing House