Home
About Us
FAQ
Privacy Policy
Contact Us
Books
DVDs
VHS
Charts
Audio Books
General Information
Secure Order Form
Mail & Fax Orders
Shipping Rates

Mastercard
Visa, Discover
* * *
Phone Toll Free:
1-877-577-8743
within U.S.A.
* * *
International
1-336-246-2663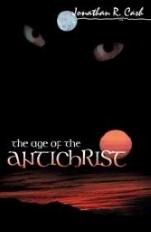 THE AGE OF THE ANTICHRIST
A Novel

Jonathan Cash, 2000



An exciting fictional presentation of the last days from a premillennialist perspective. The story involves a television station manager who has faith in Christ, a news anchor who loses his way and becomes a mouthpiece for the Antichrist, and a very exciting portrait of battles between God's army of angles and Satan's legions of demons.

Not since Frank Peretti's This Present Darkness, has a novel so clearly opened a window into the unseen world of spiritual warfare. With the Battle of Armageddon approaching, you will witness the war of the ages between good and evil, demons and angels, and the humans whom they attempt to control. Witness the seductive power of Satan's lies as the false prophet of the World Federation creates a new, universal church promising the solution to all their problems. Bring together some mighty angels, rebellious demons, a few UFO's, an orchestrated stock market crash and some resurrected prophets of old...and what do you get? Just a glimpse of what's inside. It is all revealed in the story predicted in the Bible nearly two thousand years ago.

---
TABLE OF CONTENTS
Mystery of the Ages
The Deceit of Riches
A Few Good Men
The Great Mystery
The Great Merger
Uncomprehendable Patience
Fleeting Peace
The Coming Conspiracy
Evil is Good, and Good is Evil
A Morality Void of God
Flirting with Disaster
Concealing Evil
Who is god?
Let the Games Begin
The Great Charade
The Evil Blossom
Birth Pains
Shifting Sands
Sound the Trumpets
A Stunned World
The Battle of Armageddon
---
AUTHOR PROFILE
Jonathan Cash is the meteorologist for one of the highest rated morning television newscasts in the country. He is a Bible teacher for a large church in the state of Virginia, and is highly requested as a speaker at schools, civic clubs, and churches. Jonathan resides in Chesapeake, Virginia with his wife Tina, daughter Christina, and dog Stormy.

---
BOOK SPECIFICATIONS
400 pages, paper
ISBN 0883686295