Home
About Us
FAQ
Privacy Policy
Contact Us
Books
DVDs
VHS
Charts
Audio Books
General Information
Secure Order Form
Mail & Fax Orders
Shipping Rates

Mastercard
Visa, Discover
* * *
Phone Toll Free:
1-877-577-8743
within U.S.A.
* * *
International
1-336-246-2663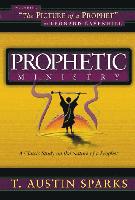 PROPHETIC MINISTRY: A Classic Study on the Nature of a Prophet

Theodore Austin Sparks, 2000



This respected and proven voice from our past speaks with wisdom and authority on one of the most misunderstood but essential ministries in the church today. He talks about man, the passion, the voice and the mercy expressed in the hearts of true prophets of the Lord. You will learn how to recognize, understand and respond to a true prophet as you read the pages of this book.

---
TABLE OF CONTENTS
Endorsement by Dr. Bill Hamon
Publisher's Note by Don Nori
Picture of a Prophet by Leonard Ravenhill
Foreword
Biography
Introduction
What Prophetic Ministry Is
The Making of a Prophet
A Voice Which May Be Missed
A Vision That Constitutes a Vocation
Why the Prophet's Message Is Not Apprehended
The Kingdom, and Entrance Into It
The Contrast Between the Old Dispensation and the New
The Cry of the Prophets for Holiness
A Recapitulation
---
AUTHOR PROFILE
Theodore Austin Sparks, 1888-1971, a British pastor, is remembered so vividly by many, for he was a man who, above all, sought to live what he believed. For him, the Gospel was not a job, a career or a way to gain notoriety. He dropped the "Reverend" after coming to the powerful realization that the living Christ within him wanted full expression through him. Thus the confession of Scripture "it is no longer I that lives, but Christ lives in me," became a most important driving force in his life. This passion he carried for our Lord opened doors of ministry on several continents.

---
BOOK SPECIFICATIONS
104 pages, paper
ISBN 0768440009