Home
About Us
FAQ
Privacy Policy
Contact Us
Books
DVDs
VHS
Charts
Audio Books
General Information
Secure Order Form
Mail & Fax Orders
Shipping Rates

Mastercard
Visa, Discover
* * *
Phone Toll Free:
1-877-577-8743
within U.S.A.
* * *
International
1-336-246-2663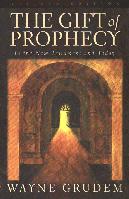 THE GIFT OF PROPHECY
in the New Testament and Today
Revised Edition

Wayne Grudem, 2000



What does the New Testament teach about the spiritual gift of prophecy? What is it? How does it function? Can evangelical Christians use it in their churches today? This updated, comprehensive work answers such questions and points the way to a renewed understanding of the gift of prophecy-an understanding that suggests how the body of Christ may enjoy one of the Holy Spirit's most edifying gifts without compromising supremacy of Scritpure.

---
TABLE OF CONTENTS
Preface
Preface to the 1997 Reprint
Preface to the 2000 Edition
Introduction
Old Testament Prophets: Speaking God's Very Words
New Testament Apostles: Speaking God's Very Words
New Testament Prophets at Corinth: Speaking Merely Human Words to Report Something God Brings to Mind
New Testament Prophets in the Rest of the New Testament: Speaking Merely Human Words to Report Something God Brings to Mind
The Source of Prophecies: Something God Brings to Mind
Prophecy and Teaching: How Are They Different Gifts?
The Content of Prophecies: What Did the Prophecies Say?
Prophecy as a Sign of God's Blessing in a Church (1 Cor. 14:20-25)
Prophets and Church Government: Were Prophets "Charismatic Leaders" in the Early Church?
Can All Believers Prophesy?
Women and Prophecy: Prophesying Encouraged, but Not the Judging of Prophecies
The Duration of Prophecy: How Long Will Prophecy Be Used in the Church?
Encouraging and Regulating Prophecy in the Local Church
Why Do We Need the Gift of Prophecy Today?
Appendix A: The Office of Apostle
Appendix B: The Canon of Scripture
Appendix C: The Sufficiency of Scripture
Appendix 1: Prophecy and Prophets in the Old and New Testaments: A Biblical-Theological Study
Appendix 2: What Are the "Word of Wisdom" and "Word of Knowledge" in 1 Corinthians 12:8?
Appendix 3: Some Incorrect Assumptions in Cessationist Reasoning
Appendix 4: A Note on Some Objections in Edmund Clowney's The Church
Appendix 5: Why Christians Can Still Prophecy
Appendix 6: The Interpretation of Ephesians 2:20 and 3:5
Appendix 7: Some Evidence for the Existence of the Gift of Prophecy at Various Points in the History of the Church

Abbreviations
Notes
Bibliography
General Index
Scripture Index
Extra-biblical Literature Index

---
AUTHOR PROFILE
Wayne A. Grudem earned a B.A. from Harvard, an M. Div. from Westminster Theological Seminary, and a Ph.D. in New Testament from the University of Cambridge, England. He is an ordained Baptist minister and currently Professor and Chairman of the Department of Biblical and Systematic Theology at Trinity Evangelical Divinity School, Deerfield, Illinois. He is the author of Systematic Theology the co-editor (with John Piper) of Recovering Biblical Manhood and Womanhood, and a past president of the Evangelical Theological Society.

---
BOOK SPECIFICATIONS
400 pages, paper, appendix, Scripture index, general index
ISBN 1581342438