Home
About Us
FAQ
Privacy Policy
Contact Us
Books
DVDs
VHS
Charts
Audio Books
General Information
Secure Order Form
Mail & Fax Orders
Shipping Rates

Mastercard
Visa, Discover
* * *
Phone Toll Free:
1-877-577-8743
within U.S.A.
* * *
International
1-336-246-2663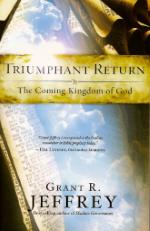 TRIUMPHANT RETURN: Christ's Coming Kingdom

Grant R. Jeffrey, 2001



The second coming is a vitally important doctrine that is taught repeatedly throughout the Word of god and was powerfully affirmed by the apostolic Church in the centuries following the birth of the Church. Best-selling author Grant Jeffrey offers a well-considered defense of the biblical teaching concerning Christ's triumphant return to earth as the King of Kings to establish His kingdom.

KEY FEATURES INCLUDE:
Christ's Triumphant Return - your role in the coming Kingdom of God.
Why is the Rapture and the Second Coming under attack today?
How should we understand the Bible's prophecies: Literal or symbolic? Past or future?
The coming Millennial Kingdom of God - the key to understanding prophecy.
Historical evidence disproves the false theory that Revelation's prophecies were fulfilled in A.D. 70.
What did the Early Church believe about the Second Coming? The early Christians taught Christ's return will be literal, imminent, and premillennial.
Fascinating new research about the remarkable prophecies pointing to the nearness of Christ's premillennial return.
Astonishing evidence the Muslim Koran acknowledges Isral's right to the Promised Land.
How should the promise of Christ's return transform your faith and daily walk with God?
---
TABLE OF CONTENTS
Acknowledgments
Introduction
Importance of the Second Coming and the Kingdom of God
How Should We Understand Prophecy?
What Did the Early Church Believe about the Second Coming?
The Time of Christ's Return
The Second Coming of Christ Will Be Premillennial
The Millennial Kingdom of God
The Rapture: The Resurection of Prophecy
The Imminent Return of Christ for His Church
The General Prophetic Signs of Christ's Return
Unique Signs Pointing to the Second Coming
How Should We Respond to the Coming Kingdom?
Selected Bibliography

---
AUTHOR PROFILE
Dr. Grant Jeffrey is internationally known as a leading teacher on Bible Prophecy. Over four million readers have enjoyed his seventeen bestselling books. Triumphant Return offers tremendous appeal to both a secular audience and all Christians who are curious about the Lord's Return, its timing, and questions about the Rapture. What did Christians of the early church actually believe about the Second Coming? What will life be like in the Millennial Kingdom of God?

---
BOOK SPECIFICATIONS
284 pages, paper, bibliography
ISBN 0921714645