Home
About Us
FAQ
Privacy Policy
Contact Us
Books
DVDs
VHS
Charts
Audio Books
General Information
Secure Order Form
Mail & Fax Orders
Shipping Rates

Mastercard
Visa, Discover
* * *
Phone Toll Free:
1-877-577-8743
within U.S.A.
* * *
International
1-336-246-2663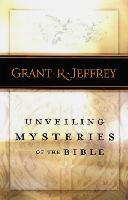 UNVEILING MYSTERIES OF THE BIBLE

Grant R. Jeffrey, 2002



The Bible is certainly the most mysterious book ever created. The Scriptures are filled with hundreds of curious passages that have puzzled both Jews and Christians for thousands of years. In this powerful, faith-building book, respected author Grant R. Jeffrey takes the reader on a journey of mystery and revelation while uncovering deep truths found in the Word of God.

Key Topics Include:
The Mystery of "3 Days and 3 Nights" and Christ's Resurrection
The Mystery of the Virgin Birth and the Star of Bethlehem
The Fall of the Walls of Jericho
Ancient Egyptian manuscript confirms the 10 plagues of Exodus
Joshua's Long Day
Jonah and the Great Fish
The Mystery of the Lost Treasures of the Temple
Why Christians Worship on Sunday
---
TABLE OF CONTENTS
Acknowledgments
Introduction
The Garden of Eden
The Mystery of Where Cain Found a Wife
The Sons of God and the Giants
The Tower of Babel
Noah's Flood
Israel's Exodus from Egypt
Was Jesus the Prophet "Like unto Moses"?
The Ashes of the Red Heifer
The Destruction of Tyre
The Lost Ark of the Covenant
Jonah and the Great Fish
Joshua's Long Day
Israel's Day of Tragedy - the Ninth Day of Av
The Witch of Endor
The Ezekiel Tablets
The Lost Treasures of the Temple
The Virgin Birth of Christ
The Two Genealogies of Jesus
The Star of Bethlehem
The "Three Days and Three Nights" Between Christ's Crucifixion and Resurrection
The Darkness at Noon at Christ's Crucifixion
The True Tomb of Jesus
The Mystery of the 153 Fish
What Happened to Christ's Disciples?
The Mystery of When Miracles and Healing Ceased
Why Do Christians Worship on Sunday?
The Final Mystery: Salvation through Jesus Christ
Selected Bibliography

---
AUTHOR PROFILE
Dr. Grant Jeffrey is internationally known as a leading teacher on Bible Prophecy. His twenty bestselling books have been enjoyed by more than five million readers.

---
BOOK SPECIFICATIONS
252 pages, paper, bibliography
ISBN: 0921714726