Home
About Us
FAQ
Privacy Policy
Contact Us
Books
DVDs
VHS
Charts
Audio Books
General Information
Secure Order Form
Mail & Fax Orders
Shipping Rates

Mastercard
Visa, Discover
* * *
Phone Toll Free:
1-877-577-8743
within U.S.A.
* * *
International
1-336-246-2663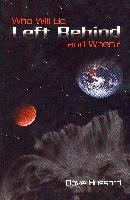 WHO WILL BE LEFT BEHIND AND WHEN?

Dave Bussard, 2002



With tensions in the Middle East at an all-time high, the threat of terrorism on our very doorsteps, and the move toward global government picking up momentum, Christians are more than ever showing an increased interest in prophecy. This is evidenced by the enormous popularity of end-times fiction books, such as the Left Behind series. We are asking questions such as: Who is the Antichrist? When will the tribulation begin? Will believers in Christ be rescued before the terrible persecution of the Antichrist? Are there any signs that will indicate that the Coming of Christ is near?

In Who Will Be Left Behind and When?, Dave Bussard takes a look at what the Bible has to say about these issues and takes aim at today's popular teachings on the pretribulation rapture, examining them in light of the scriptural facts. Although Bussard does not give a name to the timing of the rapture in this book, his views introduce the reader to the prewrath timing, which is growing in popularity as the most accurate, biblically consistent view on the rapture today.

Who Will Be Left Behind and When? is written at a level that is accessible even for beginning students of prophecy. If you have been wanting to learn more about end-times scriptures but do not have an extensive background in prophetic study, this book is for you. In these pages, Bussard provides an excellent outline of the basic scriptural issues that all believers need to understand to put the end-times events into their proper biblical framework.

---
TABLE OF CONTENTS
Introduction
Things May Be Different Than You Think
The Pre-Tribulation Rapture Theory vs. the Bible
The Second Coming of Christ and the Day of the Lord
Matthew 24: The Foundation
1 Thessalonians: Another 'Thief'
2 Thessalonians: The 'Day'
Daniel: The 70th Week
Revelation: The End and a New Beginning
Putting It All Together
Will the Antichrist Rule the Whole World?
Does Any of This Really Matter?
Recommended Reading
Table of Charts
Comparision of Matthew 24 and 1, 2 Thessalonians
Daniel's 70 Week Timeline
Fifth Chapter Scroll
Comparision of Revelation 6 and Matthew 24
Christ's Parousia
The Structure of Revelation

---
BOOK SPECIFICATIONS
161 pages, paper.
ISBN: 0970433026