Home
About Us
FAQ
Privacy Policy
Contact Us
Books
DVDs
VHS
Charts
Audio Books
General Information
Secure Order Form
Mail & Fax Orders
Shipping Rates

Mastercard
Visa, Discover
* * *
Phone Toll Free:
1-877-577-8743
within U.S.A.
* * *
International
1-336-246-2663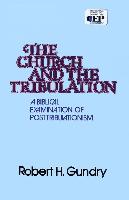 THE CHURCH AND THE TRIBULATION: A Biblical Examination of Posttribulationism

Robert H. Gundry, 1973



This book propounds the thesis that Jesus will return after the tribulation and that the first resurrection will occur at that time. Dr. Gundry believes that biblical evidence points most naturally to this conclusion. Because of his discerning analysis of Scripture, his careful logic, and the thoughtful presentation of his views, he is one of today's leading spokesmen for posttribulational eschatology.

---
TABLE OF CONTENTS
Abbreviations
Approachign the Issue
The Dispensational-Ecclesiological Backdrop
Expectation and Imminence
Wrath and Rapture
Pertinent Points in the Revelation
The Day of the Lord
Comfort in 1 Thessalonians 4:13-5:11
Correction in 2 Thessalonians
The Olivet Discourse
The End of the Age
Excursus on the Consummation of the Age
The Resurrection
The Promise in John 14:1-3
Silence, Harmonization, and Differentiation
The Judgment
Historical Confirmation
Addendum on the Futurity of the Seventieth Week
Addendum on Imminent Posttribulationism
Addendum on Midtribulationism
Addendum on Partial Rapturism
Addendum on Strombeck's View of the Parousia
Bibliography
Indexes

---
AUTHOR PROFILE
Robert H. Gundry is Professor of New Testament and Greek at Westmont College, Santa Barbara, California. He earned the Ph.D. degree at Manchester University in England and is the author of A Survey of the New Testament.

---
BOOK SPECIFICATIONS
224 pages, paper, bibliography, index, Scripture index.
ISBN 0310254019