Home
About Us
FAQ
Privacy Policy
Contact Us
Books
DVDs
VHS
Charts
Audio Books
General Information
Secure Order Form
Mail & Fax Orders
Shipping Rates

Mastercard
Visa, Discover
* * *
Phone Toll Free:
1-877-577-8743
within U.S.A.
* * *
International
1-336-246-2663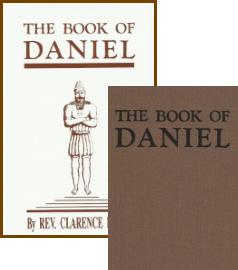 THE BOOK OF DANIEL
Clarence Larkin, 1929.



Dispensational commentary on Daniel that includes Larkin's famous charts.


---
TABLE OF CONTENTS
Introduction
The Prophetic Word
The Book of Daniel

EXPOSITION OF THE BOOK
First Division--Historical. Chapters 1 to 6.

The Beginning of Gentile Dominion
Nebuchadnezzar's Dream
The Golden Image
The Tree Dream
The Fall of Babylon
The Lions' Den

Second Division--Prophetical. Chapters 7 to 12.

The Four Wild Beasts
The Ram and the He-Goat
The Seventy Weeks
The Scripture of Truth

Part I - The Relation of Supernatural Beings to the Earth. Chap. 10:1 to 11:1.

Part II - The Pre-written History of the Kings of the North and South. Chap. 11:2-35.

Part III - The "Time of the End." Chap. 11:36 to 12:13.
---
SAMPLE CHART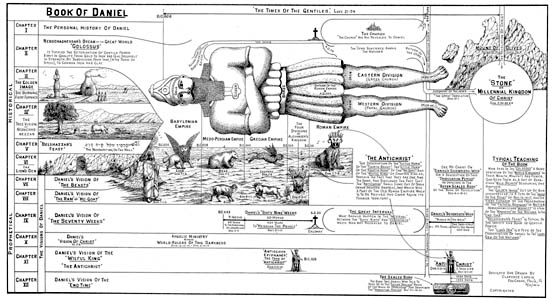 ---
LIST OF CHARTS
Book of Daniel
Prophetic Days of Scripture
Daniel and Revelation Compared
Daniel's Seventieth Week
The Seventy Weeks of Scripture
---
BOOK SPECIFICATIONS
267 pages, hardback, charts, illustrations.