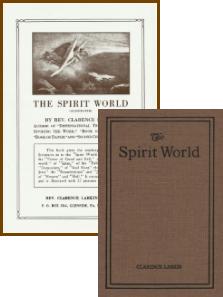 THE SPIRIT WORLD
Clarence Larkin, 1921



From the front cover: This book gives the teaching of the Holy Scriptures as to the "Spirit World." It treats of the "Power of Good and Evil," of the "Underworld," of "Satan," of the "Fallen Angels," of "Demonism," of "Soul Sleep: the "Intermediate State" the "Resurrections" and "Judgments" and of "Heaven" and "Hell." It contains 19 chapters and is illustrated with 27 pictures and 17 charts.


---
TABLE OF CONTENTS
The Spirit World
The Tri-Unity of God
Satan
The Fallen Angels
Demonism
The Underworld
The Spirits in Prison
Natural Law in the Spirit World
Relation of the "Spirit World" to the "Natural World"
Man's Relation to the Spirit World
Soul Sleep
The Intermediate State
Recognition and Relationship in the Spirit World
The Final State
The Abolition of Death
Spirit Transformation
The Resurrections
The Resurrection Body
The Judgments
---
SAMPLE CHART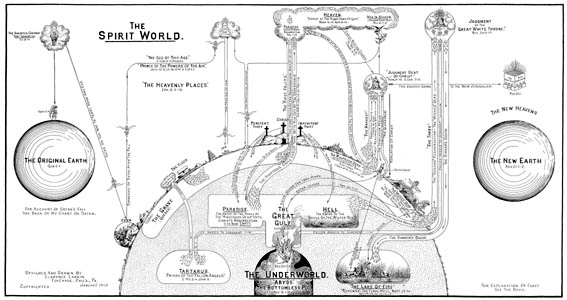 ---
LIST OF PICTURES
Frontispiece. The Ministry of Angels
Satan's Throne
Satan on His Way to the Earth
Satan in Eden
The Temptation of Christ
Satan Cast Out
The Powers of the Air
The Flood
Jacob's Ladder
Angels Appearing to Abraham
Elijah Fed by an Angel
Christ Casting Out a Demon
The Witch of Endor
Resurrection of Lazarus
Ascension of Christ
Daniel in the Lion's Den
The Star of Bethlehem
Angels Appearing to the Shepherds
The Angel Gabriel Appearing to Mary
Angel Succoring Christ in Gethsemane
Angel Delivering Peter from Prison
Stoning of Stephen
The Soul's Guardian at Death
Heaven
Translation of Elijah
Christ's First Appearance to the Disciples
The Two Disciples at Emmaus
The Transfiguration
Christ Walking on the Sea
---
LIST OF CHARTS
Ezekiel's Cherubim
John's Living Creatures
Satan
The Heavens
The Two Comings
Bodies Celestial and Terrestrial
The Tabernacle
The Threefold Nature of Man
The Underworld
The Three States of Man
The Church
The Resurrections
The Judgments
The Two Judgments of the Believer
Judgment of Reward
Dispensation of Judgment
---
BOOK SPECIFICATIONS
158 pages, hardback, charts, illustrations.