Home
About Us
FAQ
Privacy Policy
Contact Us
Books
DVDs
VHS
Charts
Audio Books
General Information
Secure Order Form
Mail & Fax Orders
Shipping Rates

Mastercard
Visa, Discover
* * *
Phone Toll Free:
1-877-577-8743
within U.S.A.
* * *
International
1-336-246-2663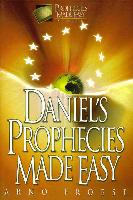 DANIEL'S PROPHECIES MADE EASY

Arno Froese, 2004



Daniel's Prophecies Made Easy takes a new and refreshing look at the ancient prophecies illustrated by Nebuchadnezzar's image, the four world powers, the ten horns and the climax of Antichrist's dominion of planet Earth followed by the establishment of God's divinely ordained kingdom. Readers will appreciate author Arno Froese's thorough and easy-to-understand approach in this practical and powerful study tool.

---
TABLE OF CONTENTS
Introduction
Daniel's Divine Decision
The Gentile Image
Global Religion
Nebuchadnezzar's Testimony
Weighed and Found Wanting
Daniel in the Lion's Den
The First Vision of the Invisible World
The Third Gentile Superpower
How Prophecy Leads to Repentance
The 70 Weeks in Prophecy
Israel's Tribulation and Redemption
The Powers Under Heaven
The End of the Vision
Mystery For the Endtimes
---
AUTHOR PROFILE
Arno Froese is the Executive Director of Midnight Call Ministry and Editor-In-Chief of the critically acclaimed prophetic magazines, Midnight Call and News From Israel. He has authored a number of well-received books. Arno Froese has sponsored many prophecy conferences in the U.S., Canada, and Israel. His extensive travels have contributed to his keen insight into Bible prophecy as he sees it from an international perspective.

---
BOOK SPECIFICATIONS
235 pages, paper.
ISBN 0937422606