Home
About Us
FAQ
Privacy Policy
Contact Us
Books
DVDs
VHS
Charts
Audio Books
General Information
Secure Order Form
Mail & Fax Orders
Shipping Rates

Mastercard
Visa, Discover
* * *
Phone Toll Free:
1-877-577-8743
within U.S.A.
* * *
International
1-336-246-2663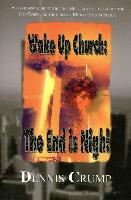 WAKE UP CHURCH: The End is Nigh!

Dennis Crump, 2002



September 11th, 2001. Terrorist attacks destroy New York's World Trade Centers and Washington D.C.'s Pentagon. Do these events signal the beginning of the end? The war against terrorism in the Middle East continues and the Israeli/Palestinian conflict (especially over Jerusalem) escalates. What does the Bible say about these issues? The subject of the End-Times and Bible Prophecy is one of great interest and much debate. The events of our day are only proving that God is already in the process of waking up His church in preparation for His soon return!

---
TABLE OF CONTENTS
Preface (Why this Book?)

Part 1 - The End-Time Introduction

Part 2 - The End-Time Period

The Tribulation

Part 3 - The End-Time Players

Israel
Mystery Babylon
The Beast: The Arab Empire!
The 10 Horns
The 7 Heads
The 7 Kings
Nebuchadnezzar's Image
The King of the North vs. The King of the South
The Little Horn (Yasser Arafat?)
The PLO & Hamas
The Origin of the Beast: The Bottomless Pit (or Abyss)!
The Family Feud: A Landmark Issue!
The Mark of the Beast
The Apostasy
666
The Antichrist
The Locusts

Part 4 - The End-Time Pieces

A Thief in the Night!
Peace & Safety
The Abomination of Desolation
The Rapture
The Wrath of God
The Marriage Supper
The New Jerusalem
But What About My Mansion
The 144,000
The Fullness of Time
Which Generation?
Heaven and Earth Pass Away
The Third Heaven (or Paradise!)
Holy Days: The Seven Feasts of Israel
The 7 Day Principle
No Man Knoweth the Day and the Hour!

The End-Time Conclusion

The Two Witnesses
What to Expect for Believers
What about the United States?

Appendix

A: A Possibility Worth Considering (1260, 1290, and 1335 Days)
---
AUTHOR PROFILE
Dennis Crump is an ordained Southern Baptist Minister who has been in ministry for over fourteen years since being honorably discharged as an officer from the United States Marine Corps. Having served mostly as a Youth Minister in the past, he currently pastors a new church start, Believers Assembly, in Green Bay, Wisconsin. He has a family of five and currently resides in Green Bay with his wife, Rhonda, of twelve years and his three sons, Cuyler, Callon, and Cana.

---
BOOK SPECIFICATIONS
316 pages, paper, appendix.
ISBN 0759697906