Home
About Us
FAQ
Privacy Policy
Contact Us
Books
DVDs
VHS
Charts
Audio Books
General Information
Secure Order Form
Mail & Fax Orders
Shipping Rates

Mastercard
Visa, Discover
* * *
Phone Toll Free:
1-877-577-8743
within U.S.A.
* * *
International
1-336-246-2663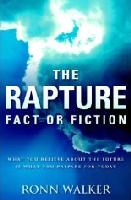 THE RAPTURE: Fact or Fiction

Ronn Walker, 2006



As each year passes there arises one relentless question concerning the rapture: "Where is the rapture?" This question will always be answered by those who teach the rapture with a statement like "it could happen anytime, so be ready--it will come as a thief in the night." But will it? If Jesus is coming on a secret trip, why did He not say so clearly and unmistakably? The truth is simple. Jesus did make perfectly clear the events surrounding His return, and it has nothing to do with a secret trip. In this book, you will discover the truth of God's Word concerning the rapture.

---
TABLE OF CONTENTS
Foreward
Preface
Introduction
The Rapture Theory
Wrath
The Elect: Who Are They?
The Marriage Supper of the Lamb
Receiving Our Rewards
And One Will Be Taken
What His Return Will Be Like
The Resurrection Plan
The Resurrection Event
Resurrection: Raise, Risen, and Rise
1 Corinthians 15
Matthew 24
1 Thessalonians 4:13-5:6
2 Thessalonians 1-2
Why Is It Important
The Conclusion
Why Christ and Not X
---
AUTHOR PROFILE
Ronn Walker has a degree from International Seminary and is a member of Phoenix Inner City Church. Born in 1961 in Phoenix, Arizona, he came to know the Lord Jesus the Christ in the mid-1980s and is committed to teaching the truth of God's Word.

---
BOOK SPECIFICATIONS
194 pages, paper.
ISBN 1597817546