Home
About Us
FAQ
Privacy Policy
Contact Us
Books
DVDs
VHS
Charts
Audio Books
General Information
Secure Order Form
Mail & Fax Orders
Shipping Rates

Mastercard
Visa, Discover
* * *
Phone Toll Free:
1-877-577-8743
within U.S.A.
* * *
International
1-336-246-2663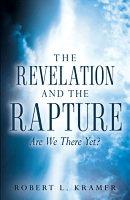 THE REVELATION AND THE RAPTURE
Are We There Yet?

Robert L. Kramer, 2007



In the process of presenting a Scriptural depiction of the future this book critiques the popular dispensational view of the End-Times. Contrary to what many have been taught, the Bible does not teach that the second coming is divided into two trips seven years apart or that the rapture is as sudden as the blink of an eye or unobserved by the world. Nor does the Bible anywhere affirm a seven year tribulation period. While the familiar themes of the second coming, the rapture and the great tribulation are presented, this is not a rehash of what others have popularly taught. Kramer presents valid new insights from the Scriptures that give an exciting new perspective to these familiar themes. He exposes some of the deceptions and errors that are popularly taught by the leading gurus of pretribulationalism.

---
TABLE OF CONTENTS
Forward
Preface
Introduction
UNIT ONE: DECEPTION ABOUT THE FUTURE
Exploring the Problem
Jesus Forewarns of Deception
The Great Tribulation of Israel
The Great Tribulation of the Church
The Revelation of Christ and the Rapture
A Comprehensive Chronological Outline of the Future

UNIT TWO: CLARIFYING ESCHATOLOGICAL TEXTS

The Time Frame of Daniel's Prophecies
The Time Frame of Ezekiel's Prophecies
The Church in the Revelation
I Will Come Again -- John 14:1-3

UNIT THREE: CLARIFYING ESCHATOLOGICAL ISSUES

Will Christians Go Through the Tribulation or the Day of Wrath?
Vultures and Eagles
What Jesus Taught About the Future of Israel
The Destiny of Unrepentant Sinners: Eternal Torture or Eternal Death
An Open Letter to Any and All Pretribulationists
ADDENDUM: The Purpose of Prophecy

---
AUTHOR PROFILE
Robert L. Kramer is a graduate of Moravian College and received his theological training at Evangelical Seminary, Reading, PA and Moravian Theological Seminary, Bethlehem, PA. He has been a pastor for 45 years in the Evangelical Congregational Church and has written Sunday School lessons for the denominational Sunday School quarterly and articles for the church paper, "The United Evangelical." The author served as secretary and then president of the Christian Educational society of the Evangelical Congregational Church. Upon retirement from the pastorate he was urged by his District Superintendent to pursue means to preserve and share his teachings with the Christian community at large. To that end he began to write and edit a bi-monthly periodical, "Second Thoughts," which he has continued to do for the last 13 years. He has served as the Bible teacher in camp meetings in Pennsylvania and has held prophecy conferences in Pennsylvania and Texas.

---
BOOK SPECIFICATIONS
235 pages, paper.
ISBN 9781600348570