Home
About Us
FAQ
Privacy Policy
Contact Us
Books
DVDs
VHS
Charts
Audio Books
General Information
Secure Order Form
Mail & Fax Orders
Shipping Rates

Mastercard
Visa, Discover
* * *
Phone Toll Free:
1-877-577-8743
within U.S.A.
* * *
International
1-336-246-2663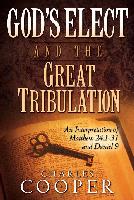 GOD'S ELECT AND THE GREAT TRIBULATION
An Interpretation of Matthew 24:1-31 and Daniel 9

Charles Cooper, 2008



This is the first scholarly defense of the pillars of the prewrath position put forth by one of the position's most well-respected lecturers. This book has four goals: (1) to support the prewrath position in its conclusion that insisting on a sharp distinction between God's work in Israel and His work in the church is a false presupposition that directly contradicts scripture; (2) to support the prewrath position in its conclusion that Matthew 24:1-31 does apply to the church, the bride of Christ; (3) to set forth a clear biblical exposition of Matthew 24:1-31 and (4) to correct the false and misleading conclusions about both the timing and fulfillment of Daniel 9:24-27.

---
TABLE OF CONTENTS
Acknowledgements
Preface
Introduction
A Preliminary Caution
The Elect: God's Children Throughout The Ages
Parousia - The Royal Return of Our King
The Church Fathers Taught Direct Applicability
The Composition of Matthew 24:1-31
It Gets Worse Before It Gets Better
The Time Frame Established
The Arrival of the Son of Man
Satan's Campaign of Deception
Confusion, Confusion, Confusion
Reconciling the Timelines
490 Years (Daniel 9:24)
Jerusalem's Timeline (Daniel 9:25)
The Terminus Ad Quem of Jerusalem (Daniel 9:26)
The Final Act--Yet to Be (Daniel 9:27)
Conclusion: The Most Important Implication
Endnotes

---
AUTHOR PROFILE
CHARLES COOPER is a pastor, lecturer, writer, and director of the Prewrath Resource Institute. He travels nationally and internationally, speaking and training leaders and laity for the cause of Jesus Christ. He is the author of numerous articles and Revelation (an Internet commentary); Immanency: the Phantom Doctrine; and Pursuing the Truth: An Introduction to Bible Interpretation.

---
BOOK SPECIFICATIONS
307 pages, paper.
ISBN 0970433042