Home
About Us
FAQ
Privacy Policy
Contact Us
Books
DVDs
VHS
Charts
Audio Books
General Information
Secure Order Form
Mail & Fax Orders
Shipping Rates

Mastercard
Visa, Discover
* * *
Phone Toll Free:
1-877-577-8743
within U.S.A.
* * *
International
1-336-246-2663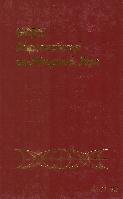 GOD'S DISPENSATIONAL AND PROPHETIC PLAN

John G. Hall, 1957-1985, 1994



John G. Hall presents the study of dispensations as a natural and logical framework for understanding the past and what is yet to come in God's eternal plan. In the popular Bible question and answer section, the author deals directly with some of the most often-asked questions concerning the Scriptures. The index is a valuable aid. This book is correlated with the author's dispensational chart which is available in two sizes.

---
TABLE OF CONTENTS
Prophecy and the Dispensations
The Dispensational Plan of God's Eternal Program
The God of Creation
Creation, Chaos, and Restoration
The Dispensation of Innocence
The Dispensation of Conscience
The Dispensation of Human Government
The Dispensation of Promise
The Dispensation of Law
Major Prophecies of Daniel
The Dispensation of Grace
Sanctification and Justification
The Transfiguration, Crucifixion, and Descension of Christ
An Overview of the Book of Revelation
The Dispensation of Divine Government
The Pefect Age
The Five Underworld Departments
The Seven Judgments
God's Word Versus Evolution Theories
Eternal Security Without Obedience Scripturally Refuted
Predestination
God's Financial Plan for His People
When Ye Pray, Believe!
Questions and Answers
Index

---
AUTHOR PROFILE
Ministers, teachers and other students of the Bible around the world have profited from the insights and teachings of Evangelist John G. Hall. His writings are widely consulted resources on the subjects of Dispensations and Bible Prophecies encompassing God's external program for man. God's dispensational and prophetic plan is explained in Hall's writings with unique simplicity and clarity. Hall's books have been highly recommended by denominational leaders, college and seminary presidents, as well as professors in classrooms of higher learning. Because they are clearly written and well-organized, professors in several Bible colleges have used them as textbooks and/or additional source material for courses on Bible prophecy. His books are approved and made available in colleges and churches of various denominations, as well as in a number of other countries.

---
BOOK SPECIFICATIONS
202 pages, hardcover, index.
ISBN: N/A