Home
About Us
FAQ
Privacy Policy
Contact Us
Books
DVDs
VHS
Charts
Audio Books
General Information
Secure Order Form
Mail & Fax Orders
Shipping Rates

Mastercard
Visa, Discover
* * *
Phone Toll Free:
1-877-577-8743
within U.S.A.
* * *
International
1-336-246-2663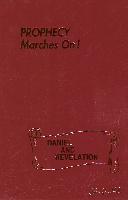 PROPHECY MARCHES ON!
Daniel and Revelation

John G. Hall, 1963, 1964, 1994



In this enlarged edition, John G. Hall has combined and coordinated the studies on Daniel and Revelation, relating them also to Ezekiel's prophecies of the end times. Since the studies complement and shed light on each other, the reader will find it most convenient to have them in a single volume. Additional material, as well as a handy index enhance the value of Prophecy Marches On.

---
TABLE OF CONTENTS
PART I - DANIEL

Introductory Outline (Structure of the Book of Daniel)

Daniel--God is my Judge
Nebuchadnezzar
Nebuchadnezzar's Prophetic Dream
Belshazzar
Daniel's Vision of the Four Beasts
Medo-Persia and Greece
The Rise of Antichrist
The Seventy Weeks Set Aside For Israel
Analysis of the Seventy Weeks
The Antichrist's Reign of Terror
Israel's Flight into the City of Petra
The Next Important Event
The Second Coming of Christ and The Olivet Discourse
The Nations Meet the Son of God As He Returns on the White Horse
Ezekiel--Things to Come
The National Restoration of the Twelve Tribes
The Anglo - Israelism Theory
Water Baptism

PART II - REVELATION

Introductory Outline (Structure of the Book of Revelation)

John--Son of Thunder, Apostle of Love
The Lord's Day
The Key Verse to the Book of Revelation
A Vision of Christ, and Messages to the Churches
"Come Up Hither"
The Seven Seals Opened
Two Great Companies Saved During the Tribulation
The Sounding of the Seven Trumpets
A Mightly Angel
The Two Witnesses
The Woman, the Man Child and the Dragon
The Two Beasts
I Looked...I Saw...I Heard...
The Seven Vials of the Wrath of God
Mystical Babylon
The Desolation of Literal Babylon
Grapes of Wrath--Armageddon
The Two Resurrections
The Revelation Completed
---
AUTHOR PROFILE
Ministers, teachers and other students of the Bible around the world have profited from the insights and teachings of Evangelist John G. Hall. His writings are widely consulted resources on the subjects of Dispensations and Bible Prophecies encompassing God's external program for man. God's dispensational and prophetic plan is explained in Hall's writings with unique simplicity and clarity. Hall's books have been highly recommended by denominational leaders, college and seminary presidents, as well as professors in classrooms of higher learning. Because they are clearly written and well-organized, professors in several Bible colleges have used them as textbooks and/or additional source material for courses on Bible prophecy. His books are approved and made available in colleges and churches of various denominations, as well as in a number of other countries.

---
BOOK SPECIFICATIONS
246 pages, hardcover, index.
ISBN: N/A