Home
About Us
FAQ
Privacy Policy
Contact Us
Books
DVDs
VHS
Charts
Audio Books
General Information
Secure Order Form
Mail & Fax Orders
Shipping Rates

Mastercard
Visa, Discover
* * *
Phone Toll Free:
1-877-577-8743
within U.S.A.
* * *
International
1-336-246-2663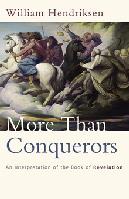 MORE THAN CONQUERORS
An Interpretation of the Book of Revelation

William Hendriksen, 1940, 1967, 1998
Ninth printing, Sept. 2008



With an uninterrupted printing history since it was first published in 1939, Dr. Hendriksen's interpretation of the Book of Revelation has served as a solid resource and a source of inspiration for generations. As a pastor, teacher, and writer, Dr. Hendriksen was widely known for his ability to combine scholarship with simplicity and warmth. In this commentary, Dr. Hendriksen challenges you to face a restless and confusing world with a joyful, confident spirit, secure in the knowledge that God reigns and is coming again soon.

---
TABLE OF CONTENTS
BIOGRAPHICAL TRIBUTE
PURPOSE, THEME AND AUTHORSHIP OF REVELATION
GENERAL ANALYSIS
THE UNITY OF THE BOOK
PROGRESSIVE TEACHING CONCERNING FINAL JUDGMENT
SYMBOLISM IN THE BOOK
BACKGROUND AND BASIS FOR INTERPRETATION
REVELATION 1: THE SON OF MAN
REVELATION 2, 3: THE SEVEN LAMPSTANDS
REVELATION 4-7: THE SEVEN SEALS
REVELATION 8-11: THE SEVEN TRUMPETS
REVELATION 12-14: THE CHRIST VERSUS THE DRAGON AND HIS ALLIES
REVELATION 15, 16: THE SEVEN BOWLS
REVELATION 17-19: THE FALL OF THE DRAGON'S ALLIES
REVELATION 20-22: VICTORY THROUGH CHRIST
BIBLIOGRAPHY
TOPICAL INDEX

---
BOOK SPECIFICATIONS
216 pages, paper, bibliography, index.
ISBN 9780801057922