Home
About Us
FAQ
Privacy Policy
Contact Us
Books
DVDs
VHS
Charts
Audio Books
General Information
Secure Order Form
Mail & Fax Orders
Shipping Rates

Mastercard
Visa, Discover
* * *
Phone Toll Free:
1-877-577-8743
within U.S.A.
* * *
International
1-336-246-2663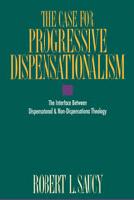 THE CASE FOR PROGRESSIVE DISPENSATIONALISM
The Interface Between Dispensational & Non-Dispensational Theology
Robert L. Saucy, 1993



Debate abounds on the future of Israel and Israel's relation to the church, not only between dispensationalists and non-dispensationalists, but among dispensationalists themselves. In the past that debate has sometimes been acrimonious, and proponents of the differing viewpoints have found little common ground. In recent years, however, views have been modified and developed so that the dialogue is increasingly by cooperation and a mutual exploration of diverse ideas. The Case for Progressive Dispensationalism is intended to enlighten the debate in that same irenic spirit. The book is solidly dispensational in perspective in affirming that the Old Testament prophecies are completely fulfilled in the future, that the nation of Israel has a prophetic future, and that Israel is not the church. Dr. Saucy departs from classic dispensationalism, however, in showing that (1) the fulfillment of Old Testament prophecy begins in the present church age, and (2) the church is not a parenthesis in God's program but represents a continuity with the Old Testament messianic program. This modified dispensationalism seeks to satisfy many of the objections of non-dispensational approaches to eschatology while retaining the crucial elements of biblical interpretation that characterize dispensational thought.

---
TABLE OF CONTENTS
Preface
PART 1: INTRODUCTION

THE CRUCIAL ISSUE BETWEEN DISPENSATIONAL AND NON-DISPENSATIONAL SYSTEMS

PART II: THE PRESENT AGE AND OLD TESTAMENT PROPHECY

THE ABRAHAMIC COVENANT
THE DAVIDIC COVENANT
THE KINGDOM
THE NEW COVENANT AND THE SALVATION OF THE GENTILES

PART III: THE CHURCH IN SALVATION HISTORY

THE CHURCH AND THE REVELATION OF THE MYSTERIES
THE BAPTISM WITH THE SPIRIT AND THE METAPHORS OF THE CHURCH
THE PEOPLE OF GOD, ISRAEL, AND THE CHURCH

PART IV: THE PLACE OF ISRAEL

THE OLD TESTAMENT PROPHECIES ABOUT ISRAEL
THE PAULINE PROPHECIES ABOUT ISRAEL
OTHER NEW TESTAMENT PROPHECIES
THE FUTURE PURPOSE OF ISRAEL
Indexes

---
AUTHOR PROFILE
Robert L. Saucy is distinguished professor of systematic theology at Talbot School of Theology, Biola University, in Los Angeles.

---
BOOK SPECIFICATIONS
336 pages, paper, indexes.
ISBN: 9780310304418