Home
About Us
FAQ
Privacy Policy
Contact Us
Books
DVDs
VHS
Charts
Audio Books
General Information
Secure Order Form
Mail & Fax Orders
Shipping Rates

Mastercard
Visa, Discover
* * *
Phone Toll Free:
1-877-577-8743
within U.S.A.
* * *
International
1-336-246-2663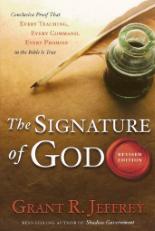 THE SIGNATURE OF GOD: Third Revised Edition
Conclusive Proof That Every Teaching, Every Command, Every Promise in the Bible Is True

Grant R. Jeffrey, 2010



This revised and updated edition of The Signature of God proves that the Bible is not only accurate in its spiritual claims, but is completely reliable as well on matters of origins, medicine, history, and science. Historians of the ancient world--as well as recent archaeological finds--confirm the names of kings and kingdoms, and the dates of wars and mass migrations mentioned in the Bible. Recent breakthroughs in astronomy, physics, and medical science have shown that God's Word accurately described the universe and the processes of human life before scientific research caught up. And hundreds of fulfilled prophecies show that God revealed the future to his prophets in order to undergird the faith of his people. No matter how loudly the skeptics argue against Christian faith, only one conclusion makes sense: the Bible is God-breathed. You can believe every word, every claim, every prophecy, and every miracle. With no doubts.

---
TABLE OF CONTENTS
Preface
Introduction: The Battle for the Bible
Historical Documents Verify the Accuracy of the Old Testament
Startling Archeological Discoveries
The Historical Evidence About Jesus Christ
Scientific Evidence that the Bible is Accurate
Advanced Medical Knowledge in the Bible
Precise Fulfillment of Bible Prophecy - The Signature of God
The Promised Messiah--Proof That the Scriptures Are Inspired by God
Evidence From Prophecies Fulfilled in Our Generation
The Mysterious Bible Codes
Bible Codes Reveal the Name of Yeshua in the Old Testament
The Phenomenon of "Undesigned Coincidences"
The Evidence of the Men who Wrote the New Testament
The Final Decision is Yours
Acknowledgments
Selected Bibliography

---
AUTHOR PROFILE
Dr. Grant Jeffrey is an internationally known prophecy expert and author of Shadow Government, Countdown to the Apocalypse, and more than twenty other best-selling books. He is also the editor of the Marked Reference Prophecy Study Bible. His popular television program, Bible Prophecy Revealed, airs weekly on TBN. Dr. Jeffrey earned his master's and doctorate degrees from Louisiana Baptist University. He and his wife, Kaye, live in Toronto, where they serve in full-time ministry.

---
BOOK SPECIFICATIONS
336 pages, paper, bibliography.
ISBN: 9780307444844