Home
About Us
FAQ
Privacy Policy
Contact Us
Books
DVDs
VHS
Charts
Audio Books
General Information
Secure Order Form
Mail & Fax Orders
Shipping Rates

Mastercard
Visa, Discover
* * *
Phone Toll Free:
1-877-577-8743
within U.S.A.
* * *
International
1-336-246-2663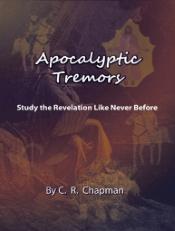 APOCALYPTIC TREMORS
Study the Revelation Like Never Before

C.R. Chapman, 2011



The book of Revelation is the most intriguing book of the Bible; yet, the most controversial and mysterious -- a mystery incomplete or is the mystery unfolding before our blinded eyes? The earth shakes and the seas roar; the tremors of our age cannot be ignored. Has end time tribulation made her entrance upon the stage of our sinful world? Rejoice with the Saints of the Revelation as each miracle occurs, for this revelation of Jesus Christ is truly a revelation of magnificent glory.
Did you know that there are many miracles in the Revelation?
Does God have the right to judge the world?
Does the church go through the tribulation?
At least 20 reasons for a harvest rapture.
Have you wondered what all the strange images of the Apocalypse represent?
Have you wondered why God ends this age, as we know it, with such disaster?
What is the purpose of the Millennium?
What is the wrath of man, the wrath of Satan, and the Wrath of God?
View: Post-Tribulation Rapture

---
TABLE OF CONTENTS
Preface
Part A: The Introduction
Apocalypse of Jesus Christ
Understanding Tribulation

Part B: Need for Justice

The Cry for Justice
Images of the Seal Period
The Great Falling Away
Four Horsemen of the Apocalypse

Part C: Vengeance of Christ

Christ's Trumpet Vengeance
Christ's Trumpet Warnings

Part D: Conflict of the Kingdoms Heavens are Purged

The Two Woes of Ironic Justice
The Wrath of Satan
Reign of Antichrist
Christ's Trumpet Protections
The Harvest Rapture

Part E: Kingdom's Fall and the Day of the Lord

The Prelude to the Day of the Lord
The Great Day of God Almighty

Part F: All Things New: The Rewards of Justice

The Covenants of God are Fulfilled to Israel
The Covenants of God with the Church are Fulfilled

Part G: The Rapture

The Marriage Bonds
False Glimpses of a Rapture
Day of the Lord or the Day of Christ
Why the Church Must Go Through Tribulation
Further Evidence that the Church Will Go Through the Tribulation
Why I don't Believe in a Pre-wrath Rapture But the Harvest Rapture
A Conclusion: What Must We Do?
Appendix 1: The Early Church Fathers Speak
Appendix 2: Extra Charts
Endnotes

---
AUTHOR PROFILE
Carolyn Ruth Chapman M.A. is a qualified teacher and lover of prophecy and truth.

---
BOOK SPECIFICATIONS
245 pages, large format paperback.
ISBN 9781449719616