Home
About Us
FAQ
Privacy Policy
Contact Us
Books
DVDs
VHS
Charts
Audio Books
General Information
Secure Order Form
Mail & Fax Orders
Shipping Rates

Mastercard
Visa, Discover
* * *
Phone Toll Free:
1-877-577-8743
within U.S.A.
* * *
International
1-336-246-2663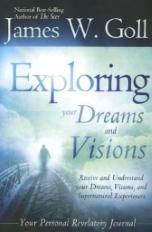 EXPLORING YOUR DREAMS AND VISIONS
Receive and Understand Your Dreams, Visions, and Supernatural Experiences
Your Personal Revelatory Journal

James W. Goll, 2012



This personal revelatory journal will teach you the secrets of understanding and interpreting the supernatural language of your dreams, visions and encounters with God. It is a perfect follow up tool for the best-selling books The Seer and Dream Language or as a stand-alone journal. Have you ever wondered—Does God still speak to people through dreams, visions and angelic visitations? Are these experiences available to believers…today? What can I do to cultivate a Spirit of Revelation in own life? After centuries of neglect, the Church is rediscovering a God who supernaturally communicates with His people through their own personal relationship with the Holy Spirit thru dreams, visions and visitations today. Why? God Encounters are for everyone! In this interactive journal, James Goll reveals a practical step-by-step process for receiving and recording your revelations so that you are able to effectively interpret their spiritual meanings and move into appropriate applications for your life.

You will learn how to:
Understand your supernatural experiences and discern what God is saying to you
Keep track of the hidden revelation God has for you through journaling
Correctly interpret and unlock the meaning of your personal revelatory language
Move in accurate applications with a prayerful response
Experience the Holy Spirit in the world around you in everyday life
This Bible-based and spiritually grounded revelatory journal will show you how to experience God's voice in a whole new way!

---
TABLE OF CONTENTS
Foreword
Lesson One: Journaling as a Tool of Retaining Revelation
Lesson Two: Discipline or Privilege?
Lesson Three: Properly Interpreting Revelation
Lesson Four: Revelation Is Full of Symbolism
Lesson Five: Some Basics of Revelatory Interpretation
Lesson Six: Keeping Interpretation Simple
Lesson Seven: The Twenty Most Common Dreams
Lesson Eight: People Who Appear
Lesson Nine: Tips on Remembering Revelation
Lesson Ten: Practical Applications of Quietness
Lesson Eleven: Nine Scriptural Tests
Lesson Twelve: Testing the Spirits
Lesson Thirteen: Wisely Discerning Revelatory Encounters
Lesson Fourteen: Safety in the Family / My Personal Visionary Journal
Terminolgy: Dream Symbols and Their Interpretations

---
AUTHOR PROFILE
Dr. James W. Goll is the President of Encounters Network, International Director of Prayer Storm, and founder of the God Encounters Training E-School of the Heart. He has shared Jesus in more than 50 nations worldwide and is a prolific best-selling author. He is the father of four wonderful adult children and resides in Franklin, TN. James' goal is to exalt Christ Jesus as he teaches and imparts the power of intercession and prophetic ministry as he lives a grace filled life emphasizing both the fruit and gifts of the Holy Spirit today.

---
BOOK SPECIFICATIONS
286 pages, paperback.
ISBN 9780768403152